The United States and Brazil top the list of nations with the most gun deaths
The first global analysis of firearm-related deaths tallies homicides, suicides and accidents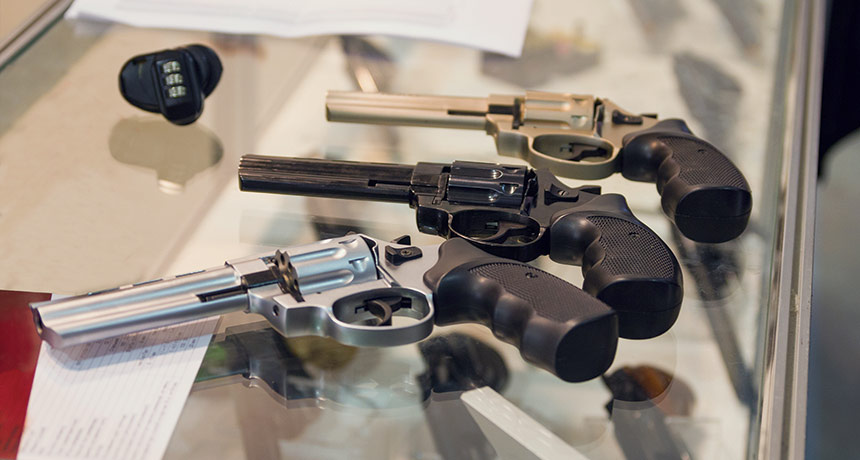 Gun deaths occur worldwide, but a new survey reveals the hot spots for those that occur outside of war zones.
In 2016, firearm-related homicides, suicides and accidental deaths were highly concentrated. For example, just six countries — the United States, Brazil, Mexico, Colombia, Venezuela and Guatemala — accounted for about half of the estimated number of gun deaths unrelated to armed conflict, even though the nations together contributed less than 10 percent of the world's population.
That's just one takeaway from the first look at the global impact of interpersonal and self-inflicted gun violence on public health, published online August 28 in JAMA. Here's the big picture:
Total global gun deaths rose from 1990 to 2016
Worldwide, an estimated 251,000 people died from guns due to homicide, suicide or unintentional injury in 2016. That's up from an estimated 209,000 such firearm deaths in 1990, the team found by analyzing data from 195 countries and territories from 1990 to 2016.
In 2016, 64 percent of gun-related deaths were homicides, 27 percent were suicides and 9 percent were accidental deaths.
But the rate of gun deaths dipped a bit
Subscribe to Science News
Get great science journalism, from the most trusted source, delivered to your doorstep.
The researchers looked at the global rate of firearm deaths, adjusted for differences in the distribution of ages in a population. The rate decreased slightly, from 4.2 deaths per 100,000 in 1990 to 3.4 deaths per 100,000 in 2016, because the global population grew.
Even so, "we can see the number of deaths due to gun violence — homicide, suicide, unintentional injury — is very high," says study coauthor and global health researcher Mohsen Naghavi of the University of Washington in Seattle. "Gun violence is a public health problem."
Gun violence
The total number of gun-related homicides, suicides and accidental deaths went up from 1990 to 2016 (left graph). That rise is attributable to homicides and suicides; unintentional deaths dropped slightly. But the global population has grown, too, so overall rates of firearm deaths have slightly decreased in that time (right). All charts exclude deaths from armed conflict or terrorism.
How global gun deaths in 1990 compare with those in 2016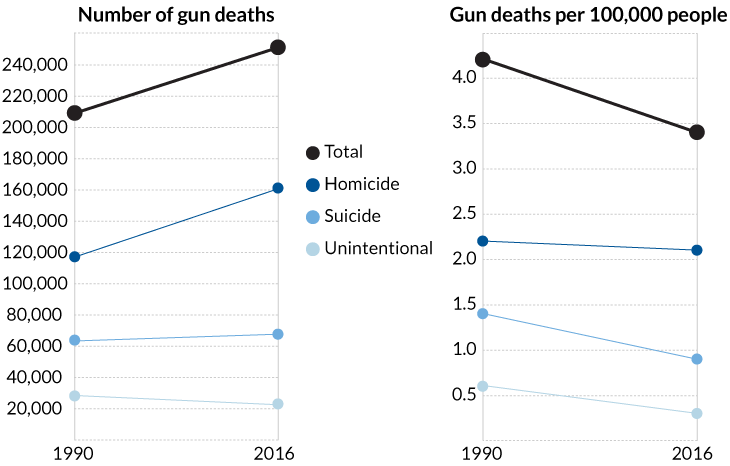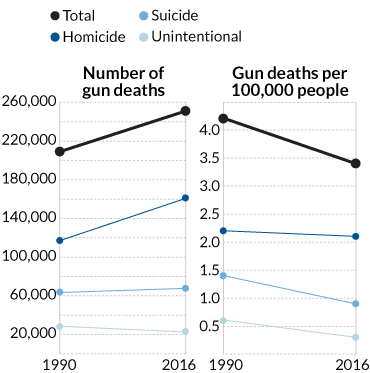 Source: The Global Burden of Disease 2016 Injury Collaborators/JAMA 2018
More gun deaths occur outside of war zones than inside
Globally, for every year studied save one, gun deaths due to homicide, suicide and unintentional injury exceeded those due to conflict and terrorism. The exception: 1994, the year of the Rwandan genocide. That year, the death toll from global conflict reached 551,000, compared with 232,000 deaths from gun homicides, suicides and unintentional injuries.
The United States and Brazil are hot spots of gun violence
These two countries accounted for 32 percent of the total number of estimated deaths in 2016. In Brazil and the other top four Latin America countries, most gun deaths were homicides. The high rate of gun homicide in these countries is associated with drug and weapon trafficking, research has found. One-fourth of all global gun-related homicides in 2016 took place in Brazil.
Hot spots
In 2016, six countries were responsible for about half of all estimated gun deaths worldwide. Brazil and the United States accounted for about 32 percent of the total, but while homicides dominated in Brazil, gun deaths from suicides were most prevalent in the United States.
Gun deaths in selected countries, 2016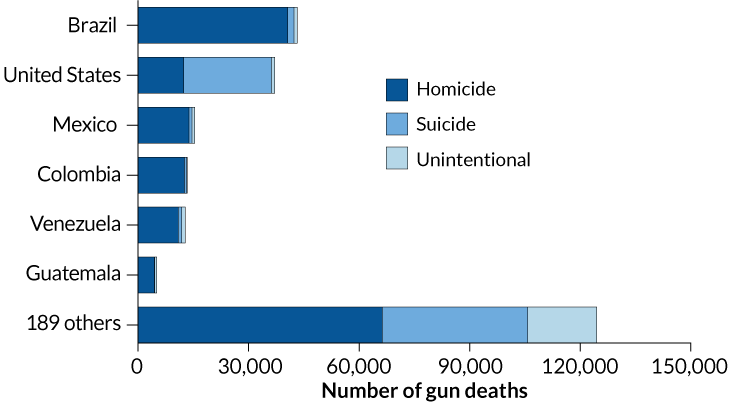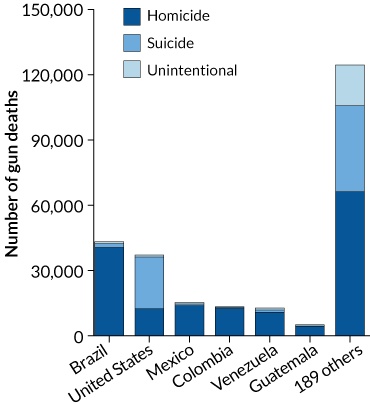 Source: The Global Burden of Disease 2016 Injury Collaborators/JAMA 2018
But in the United States, as in some other wealthy countries, such as France and Germany, suicide accounted for the majority of gun deaths in 2016. Thirty-five percent of all global firearm suicides that year occurred in the United States, the researchers estimate.
Suicide rates have risen across the United States since 1999 (SN: 7/7/18, p. 13). Previous research has shown that having guns in the house is linked to higher use of the weapons to commit suicide and to a larger number of unintentional gun-related deaths.
---
Editor's note: This story was updated on September 7, 2018, to correct the description of where global gun deaths were concentrated in 2016.