Using high-nicotine e-cigarettes may boost vaping and smoking in teens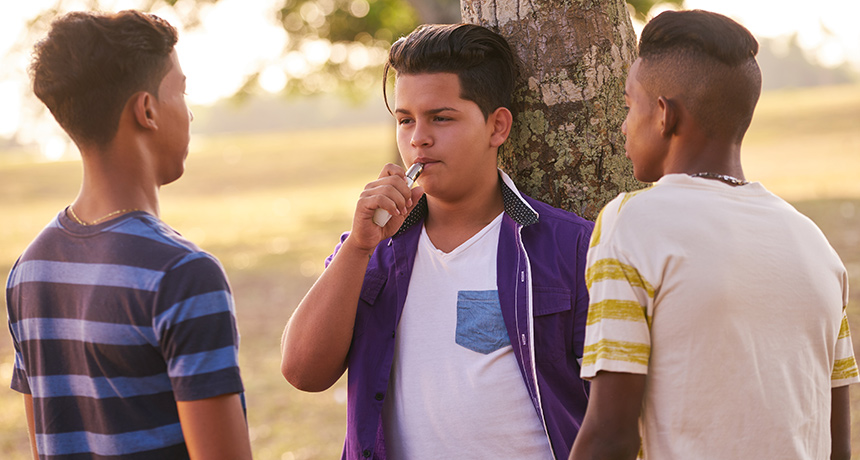 Vaping e-cigarettes with high amounts of nicotine appears to impact how often and how heavily teens smoke and vape in the future, a new study finds.
In 2016, an estimated 11 percent of U.S. high school students used e-cigarettes. Past research has found that that teen vaping can lead to smoking (SN: 9/19/15, p. 14). The new study, published online October 23 in JAMA Pediatrics, is the first look at whether vaping higher amounts of nicotine is associated with more frequent and more intense vaping and cigarette use in the future.
Researchers at the University of Southern California surveyed 181 10th-graders from 10 high schools in the Los Angeles area who had reported vaping in the previous 30 days, then followed up six months later, when the students were 11th-graders. The teens answered questions about how much and how often they had smoked and vaped in the past 30 days and about the amount of nicotine in their vaping liquid. The researchers categorized the amount of nicotine as none, low (up to 5 milligrams per milliliter), medium (6 to 17 mg/mL) or high (18 mg/mL or more).
With each step up in nicotine concentration, teens were about twice as likely to report frequent smoking versus no smoking at the six-month follow-up. Teens who vaped a high-nicotine liquid smoked seven times as many cigarettes per day as those who vaped without nicotine.
Also with each nicotine level increase, teens were about 1½ times as likely to report frequent vaping than no vaping at all. Vaping high-nicotine liquid led to almost 2½ times as many episodes of vaping per day compared with no-nicotine vaping, and kids took more puffs each time they vaped.
"This study is important because it begins to chip away at the 'black box' that links e-cigarette use with later use of regular cigarettes," says sociologist Richard Miech of the University of Michigan in Ann Arbor. "Ideally, studies like this will encourage government agencies to develop policies that will make it very difficult for youth to obtain e-liquids with nicotine."  
In 2016, then-U.S. Surgeon General Vivek Murthy released a report on e-cigarettes, concluding that using nicotine-containing products in any form is not safe for youth. Studies find an association between nicotine use in teens and problems with learning, attention and impulse control, as well as addiction (SN: 7/11/15, p. 18).