West Nile virus fells endangered condor
A cliff-dwelling California condor chick in Ventura County, Calif., died in late August from a West Nile virus infection. The chick is one of only four of its species born in the wild this year.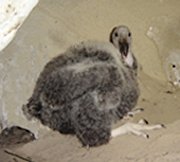 The 3-month-old bird's illness was complicated by pneumonia, according to the U.S. Fish and Wildlife Service (FWS), which is administering a recovery program for these highly endangered birds.
Knowing the species' vulnerability to West Nile virus, FWS scientists had inoculated the chick's parents with a condor-specific West Nile vaccine in 2003 and 2004.
"We know through testing on captive condors that maternal immunity is transferred to the chicks," notes project leader for the recovery program Marc Weitzel of the FWS Hopper Mountain Complex outside Ventura, Calif. However, the team didn't expect that immunity to have worn off so soon.
Conservation scientists routinely vaccinate all adults of the species and chicks born in captivity as part of the recovery program. "We [now] will attempt to vaccinate wild-hatched chicks in their nests," says Weitzel.
Just 276 California condors survive. Roughly 150 live in captive-rearing programs at zoos and other centers. The rest are part of populations that were reintroduced to the wilds of California, Arizona, and Baja, Mexico, beginning more than a decade ago (SN: 1/25/92, p. 53). The imperiled species—whose population once had plummeted to just 27 individuals—began successfully reproducing in the wild 4 years ago (SN: 6/9/01, p. 357: Endangered condors lay first eggs in wild).