A half-century ago, a new type of fern arrived in Florida—probably having started out as stowaway spores in shipments of nursery plants from Southeast Asia. Today, from suburban backyards to remote locations in the Everglades, the Old World climbing fern (Lygodium microphyllum) infests some 100,000 acres in south Florida. In an effort to control the explosively spreading weed, state and federal officials are betting on a moth indigenous to Australia.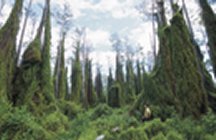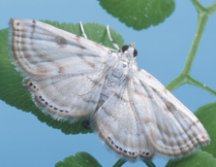 Each frond of the kudzulike Lygodium can grow 100 feet long and smother wetlands plants in its way. Of all Florida's weeds, "by far, this one's the worst we've ever seen," says Dan D. Thayer of the state's South Coast Water Management District in West Palm Beach.
On Feb. 14, government entomologists released hundreds of three-quarter-inch-wide adult moths of the species Austromusotima camptonozale. In Australia, caterpillars of the moth eat enough Lygodium to keep it under control. Research at the U.S. Department of Agriculture's Invasive Plants Research Laboratory in Fort Lauderdale indicates that the moth doesn't have a similar appetite for the native U.S. plants it might encounter in Florida and nearby states.
Over the coming year, the lab plans to release 20,000 moths, says USDA's Robert W. Pemberton.