You can tell a magazine by looking at its cover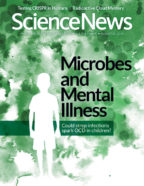 We ask a lot of our magazine cover. It needs to tell readers that this is Science News, not some piece of junk mail. It has to clearly convey information on what's inside. And it must be visually alluring, so you just have to pick it up and peek inside.
This week's cover (left), "Microbes and Mental Illness," is one example of how the designers on our visuals team deploy their creative skills to meet that challenge. It highlights a feature story on PANDAS, or pediatric autoimmune neuropsychiatric disorders associated with streptococcal infections. It's a rare condition characterized by the sudden onset of obsessive-compulsive disorder in children. Some researchers think it's sparked by a streptococcal infection, which also can cause strep throat, while others say there's not enough evidence to support that link.
When most people see the term "PANDAS," they think of furry black-and-white bamboo eaters. So a cover saying "Here's a story about PANDAS" could be misleading. Images can often convey what a short headline cannot. But in this case, neither bacteria nor OCD is easy to telegraph visually. To solve that problem, design director Erin Otwell chose a green splotchy background that gives the feel of a sea of tiny microbes, then added a silhouette of a child standing alone to convey the uncertainty and isolation that can accompany a mysterious illness. She also made sure that the green was a change of pace from our recent covers, thus making your coffee table more colorful.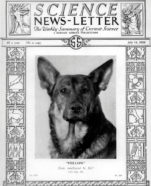 This cover also features our Science News nameplate. We've sported many nameplates since our founding in 1921, and it's fun to dig into the archives and see how they've morphed through the years (check out the handsome 1928 cover, right). After several years with a sleek "SN" monogram, we reclaimed our full name in July. We're proud of who we are and what we do, and no words convey that better than Science News.