Tag! You're It
Biologists catch and tag big sawfish in Florida waters
Once a common top predator throughout coastal seas around the globe, sawfish have become remarkably rare. Indeed, today most populations are threatened with extinction. So spotting even one of these animals is reason to rejoice, notes Beau Yeiser of Mote Marine Laboratory in southern Florida. And this week, "we are nothing but giddy," he reports.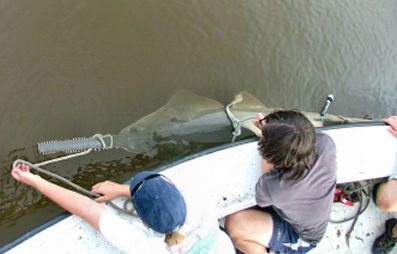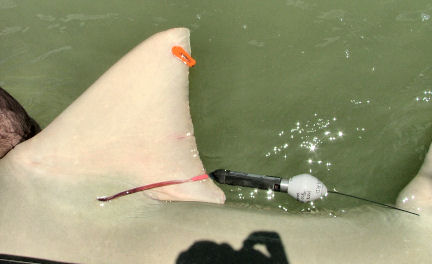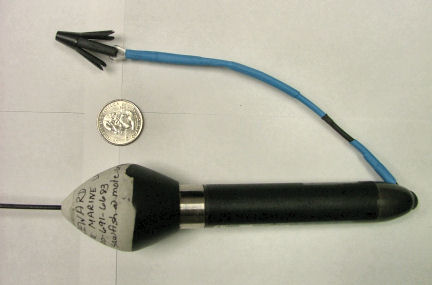 He and colleague Tonya Wiley just returned from a 2-day sawfish-scouting expedition during which they tagged a 7-foot male on Oct. 16. At that size, the strapping youth may be 5 to 7 years old, Yeiser says. He cautions, however, that estimating age is challenging "as we try and piece together the life history of this species. We don't even know its size at maturity yet."
Science News headlines, in your inbox
Headlines and summaries of the latest Science News articles, delivered to your email inbox every Thursday.
Thank you for signing up!
There was a problem signing you up.
These animals—essentially flattened sharks with wings—are members of the ray family. Only one species of this fish remains in U.S. waters, mostly off of Florida. Over the first half of the 20th century, this smalltooth sawfish (Pristis pectinata) was fished to the brink of extinction—largely by accident.
Although many cultures eat sawfish—the animals' fins are especially prized in Asia as the featured ingredient in a pricey soup—most of the animals in U.S. waters were landed and destroyed as bycatch, that is, nuisance species hauled in by commercial fishing fleets. The dire status of sawfish globally won these animals protection, last month, under a treaty banning international trade in endangered species (see Hammered Saws).
Subscribe to Science News
Get great science journalism, from the most trusted source, delivered to your doorstep.
So far this year, Yeiser and Wiley have caught just 14 sawfish, most of them less than 4 feet long. Those would still be little kids, considering that these fish are almost a yard long at birth. Then again, the pair had expected only small ones because they've mainly been cruising coastal shallows this year in hopes of running into newborns and youngsters.
The scientists attach a numbered identification tag to the dorsal fin of every sawfish they catch—and then release the animal.
But last week's catch was so big that it qualified for a second identifier: a pop-up archival tag, or PAT. These recording devices are so heavy that they're reserved for large sawfish—at least 7-footers. To date, only some dozen of these animals have received PATs. Costing at least $4,000 each, these data-storage systems collect information every minute, for months, on the depth at which its host is swimming, the water temperature, and light levels. The latter information gets plugged into a computer program that roughly gauges the animal's geographic coordinates at any moment.
Researchers program a PAT to pop off the fish on a particular date. Once it floats to the surface, it sends its stored information in spurts, twice a day, to a satellite. That orbiting relay station then shoots those data back to Earth and the scientists' email addresses.
Last week's sawfish encounter took place in a southern Florida national wildlife refuge, in very shallow water. Investigated as a possible nursery, Yeiser says "I was expecting any sawfish that I might catch to be perhaps 4 to 5 feet in length." Instead, he found a much older juvenile. "But that's the beauty of this [sawfish] project; you never know what you are going to get when you're scouting a species that has not been studied much!"
Yeiser named the youth that he tagged last week Raloff. Hmmm—I like the sound of that. Its tag is programmed to pop off on March 15. Stay tuned for an update on my namesake's travels.
If all goes well, that is.
A 7- and an 11-foot sawfish each received PATs in May. Although the satellite tags had been programmed to pop off 3 months later, they actually surfaced within just a couple weeks, Yeiser says—and were never recovered.
So, each time biologists deploy the pricey devices, he says, "we just cross our fingers that they won't pop up early—or get lost in the middle of the Gulf."
Don't try this yourself
The sawfish is an endangered species, so federal law forbids its capture—except by researchers who have been granted a waiver. And even they need to release an animal after measuring and tagging it.
It's against the law to even harass the animals. Still, anglers may inadvertently snag one of the toothy marvels. When that happens, this species "should be released by keeping the fish in the water and cutting the line as close to the hook as possible," according to guidelines issued late last year by the National Marine Fisheries Service in St. Petersburg, Fla. "If it can be done safely, untangle the line if it is wrapped around the saw. Do not handle the animal or attempt to remove any hooks on the saw, except for with a long-handled dehooker," NOAA says.
Biologists request that any anglers who sight a sawfish report their encounter to the Mote lab. Its scientists are maintaining a database to help them identify important habitat for these endangered animals.
As interesting as these piscine oddities are, biologists would prefer that the public give the fish a wide berth. The primary reason: Approaching the animals can stress them, chase them from what should be waters safe from predators, or even interfere with their reproduction.
But there's another reason to steer clear, according to Captain Harvey Lee Hamilton, who charters a fishing boat out of Pineland, Fla. "I've caught plenty of sawfish in my life, and I'll tell you: They're dangerous. I'm still scared to death of them." Their saws—which he terms blades—are edged with dozens of razor-sharp "teeth." The muscular animals slash those saws from side to side to kill prey or defend themselves.
Says Hamilton: "Those fish get big, with blades that can go to at least 5 foot." And they slash those blades "so fast," he says, "that they could slice your feet off." Indeed, he told Science News Online: "I'd rather fight a shark than a sawfish."
---
If you would like to comment on this Food for Thought, please see the blog version.