Anesthesia for youngsters is a tricky calculation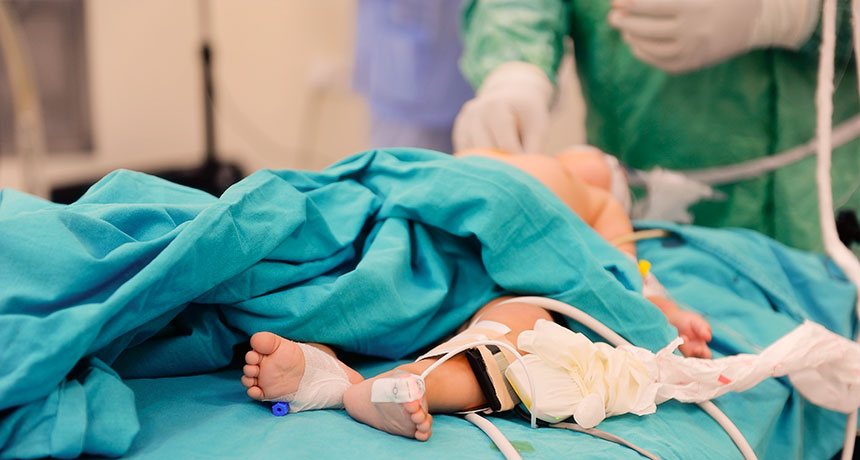 If your young child is facing ear tubes, an MRI or even extensive dental work, you've probably got a lot of concerns. One of them may be about whether the drugs used to render your child briefly unconscious can permanently harm his brain. Here's the frustrating answer: No one knows.
"It's a tough conundrum for parents of kids who need procedures," says pediatric anesthesiologist Mary Ellen McCann, a pediatric anesthesiologist at Boston Children's Hospital. "Everything has risks and benefits," but in this case, the decision to go ahead with surgery is made more difficult by an incomplete understanding of anesthesia's risks for babies and young children. Some studies suggest that single, short exposures to anesthesia aren't dangerous. Still, scientists and doctors say that we desperately need more data before we really understand what anesthesia does to developing brains.
It helps to know this nonanswer comes with a lot of baggage, a sign that a lot of very smart and committed people are trying to answer the question. In December, the FDA issued a drug safety communication about anesthetics that sounded alarming, beginning with a warning that "repeated or lengthy use of general anesthetic and sedation drugs during surgeries or procedures in children younger than 3 years or in pregnant women during their third trimester may affect the development of children's brains." FDA recommended more conversations between parents and doctors, in the hopes of delaying surgeries that can safely wait, and the amount of anesthesia exposure in this potentially vulnerable population.
The trouble with that statement, though, is that it raises concerns without answering them, says pediatric anesthesiologist Dean Andropoulos of Texas Children's Hospital in Houston. And that concern might lead to worse outcomes for their youngest patients. "Until reassuring new information from well-designed clinical trials is available, we are concerned that the FDA warning will cause delays for necessary surgical and diagnostic procedures that require anesthesia, resulting in adverse outcomes for patients," Andropoulos and a colleague wrote February 8 in a New England Journal of Medicine perspective article.
By and large, the surgeries done in young children have good reasons. Surgery for serious heart disease and other life-threatening conditions can't wait. Ear tubes need to be put in so that a child can hear and get auditory input that's required early in life for normal language skills. Likewise, certain kinds of eye surgery and cleft palate repairs all lead to better developmental outcomes if done early.
That doesn't leave many surgeries that can be put off.  "The things that can be delayed are few and far between," Andropoulos says. That's why the FDA's recent drug safety communication might cause extra parental worry about surgeries that ought to be done.
Scientists have lots of data showing that anesthetic drugs can cause long-lasting damage in a variety of species, from roundworms to rats to nonhuman primates.  Anesthetics are "like any toxin," says Andrew Davidson, an anesthesiologist at the Murdoch Childrens Research Center in Melbourne, Australia. "The more you have, the worse it is."
Yet Davidson and others have uncovered some reassuring news for parents. Quick, single exposures to anesthesia, about an hour or less, don't seem dangerous.
Davidson, McCann and colleagues recently compared children who, as babies, had undergone hernia repair surgery. Of these babies, 359 had brief general anesthesia and 363 instead received local anesthesia. At age 2, the children showed no differences in mental abilities, the researchers reported last year in The Lancet. That trial, called the GAS study, was particularly well-done because unlike many other studies of this question, babies were randomly assigned to receive either general or local anesthesia. And the experiment isn't over yet. Scientists will test the children again at age 5, when it will be easier to test more complex forms of thinking.
More encouraging news came from the PANDA study, which tracked over 100 children who had received a short dose of anesthesia (the median was 80 minutes) when they were younger than 3. When those same kids were 8 to 15 years old, their IQs and most other thinking skills were similar to their healthy siblings who had not received anesthesia when they were young.
Along with the GAS results, the PANDA study, published June 7 in the Journal of the American Medical Association, offers some reassurance to parents whose child might need surgery. "If it's a short procedure, you don't have to worry about it," Davidson says.
For now, doctors are making good efforts to talk through these complex questions with parents as they make medical decisions. "We face this issue essentially every day," Andropoulos says, and at his institute, the FDA guidelines prompted even more conversations. Parents are largely appreciative of having these talks, he says. And hopefully scientists will soon have something more to tell parents about what Andropoulos calls "the most important problem we face in pediatric anesthesia."