Tiny Tuvalu could quash climate deal
COPENHAGEN — Prime Minister Apisai Ielemia brags that his tiny nine-island state of Tuvalu is the world's smallest independent country. Its 10,000 inhabitants live an average of two meters above sea level, which makes their homeland highly vulnerable to disappearing with even modest sea-level rise. With the nation's survival so dependent on climate protection, he vowed today that Tuvalu will not sign onto any climate-change accord that does not require "legally-binding" language and programs aimed at ensuring global temperatures peak at "well below" 1.5 oC. Or so reports Platts Global Alert, a subscription newswire, this afternoon.

That could effectively torpedo hopes for a climate accord tomorrow when the United Nations climate change meeting is slated to wrap up.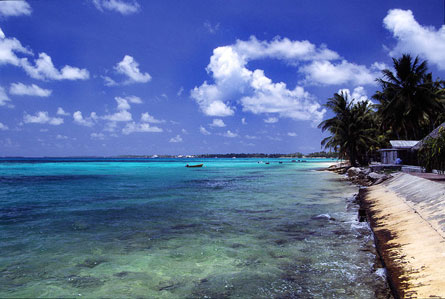 Indeed, observers have been reporting for the past 10 days that hopes are questionable for either condition. The best hope is for language that promises nations will take action aimed at holding average global temperature increases to rising no more than 2 oC above pre-industrial times. And the question of whether any language coming out of negotiations here will be "legally binding" on signatory nations is under hot debate.
Decisions here are based on consensus – universal accord. So tiny Tuvalu has the potential to hold the negotiations hostage by playing its veto card. Then again, this could be biting off its nose to spite its face, so to speak. Arguably, no country needs a global climate accord to ratchet down emissions by industrial leaders more than Tuvalu does. So stalling implementation of even less-than-perfect language would be counterproductive.

Right now, some industrial nations have proposed anteing up "fast start" funds — perhaps $10 billion a year for at least three years, maybe a decade. It would go for climate mitigation and adaption in countries most threatened by climate change. Such as Tuvalu. But Ielemia observes that "no amount of short term finance can buy our long term future."

That's why Ielemia is holding firm. When he addressed the plenary today, populated by heads of state from around the globe, he pointed out that "I did not come from right across the other side of the world to sign on to . . . a hollow political agreement. We are not here to window dress a failure. We are here to sign on the dotted line" of a document that should usher in a meaningful global rule of law.
Other nations are doing plenty of posturing on their own. I listened to a number of leaders representing the "Africa group" this morning. And their chairman argued that "no deal is better than a bad deal, at least for Africa." He said African nations would, like Tuvalu, be lobbying hard for relatively robust and legally binding emissions reductions by the industrial world.
We'll see. Within 24 hours or so, the final language should be printed and up for a vote. Looks like few negotiators will get much sleep tonight.