The Arecibo Observatory will remain open, NSF says
The iconic radio telescope survived Hurricane Maria and dodged deep funding cuts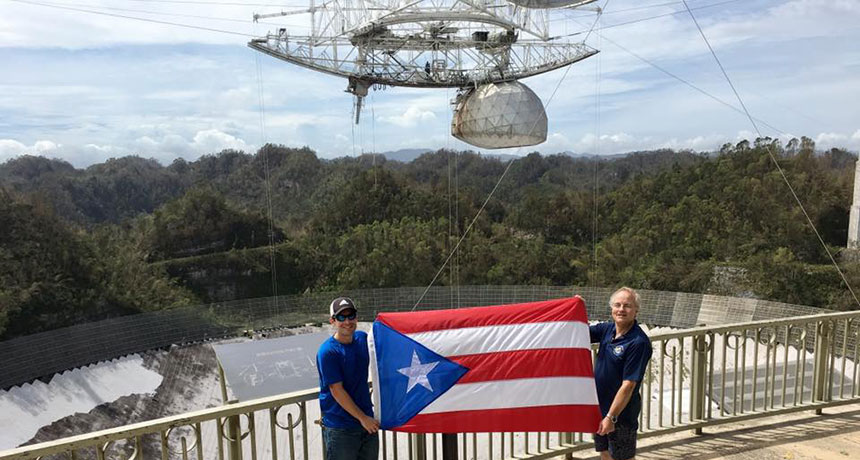 The iconic Arecibo Observatory has survived a hurricane and dodged deep budget cuts. On November 16, the National Science Foundation, which funds the bulk of the observatory's operating costs, announced that they would continue funding the radio telescope at a reduced level.
It's not clear yet who will manage the observatory in the long run, or where the rest of the funding will come from. But scientists are celebrating. For example:
I AM LITERALLY CRYING AT WORK! TEARS OF JOY!!! THE OBSERVATORY SURVIVES!!! #WEPA #PuertoRico #AreciboScience

— Ed Rivera-Valentín (@PlanetTreky) November 16, 2017
Arecibo, a 305-meter-wide radio telescope located about 95 kilometers west of San Juan, is the second largest radio telescope in the world. It has been instrumental in tasks as diverse as monitoring near-Earth asteroids, watching for bright blasts of energy called fast radio bursts and searching for extraterrestrial intelligence.
But the NSF, which covers $8.3 million of the observatory's nearly $12 million annual budget, has been trying to back away from that responsibility for several years. After Hurricane Maria hit Puerto Rico on September 20, damaging the telescope's main antenna, the observatory's future seemed unclear (SN: 9/29/17).
On November 16, the NSF released a statement announcing it would continue science operations at Arecibo "with reduced agency funding," and would search for new collaborators to cover the rest.
"This plan will allow important research to continue while accommodating the agency's budgetary constraints and its core mission to support cutting-edge science and education," the statement says.