Mummy DNA unveils the history of ancient Egyptian hookups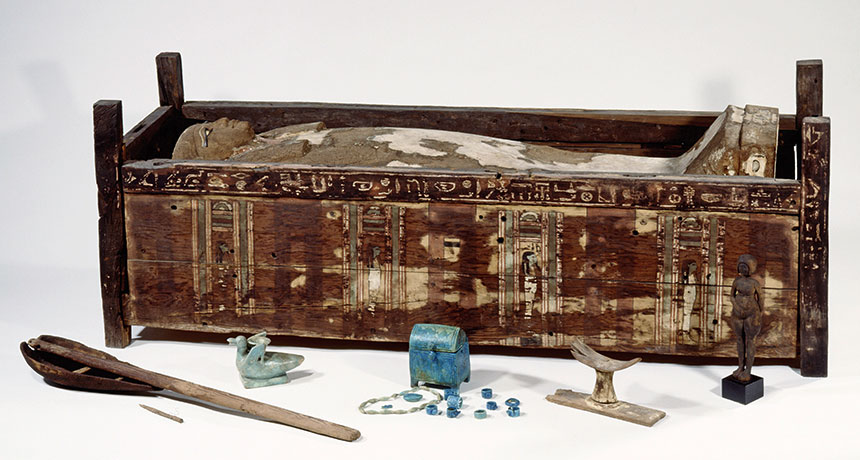 Egyptian mummies are back in style at the summer box office — and in genetics labs. A study of genetic blueprints from 90 mummies repairs the frayed reputation of sarcophagus occupants as sources of ancient DNA. And it reveals evidence of a hookup history with foreigners from the east.
An Egyptian mummy served up the first ancient human DNA sample in 1985 (SN: 4/27/85, p. 262). But both chemicals used in mummification and Egypt's steamy climate can degrade DNA, and scientists weren't sure if mummies could supply samples free of modern contamination.
Science News headlines, in your inbox
Headlines and summaries of the latest Science News articles, delivered to your email inbox every Thursday.
Thank you for signing up!
There was a problem signing you up.
Carefully screening for quality and using the latest in sequencing tech, Verena Schuenemann of the University of Tübingen in Germany and her colleagues extracted and analyzed mitochondrial DNA, which passes from mom to child. They worked primarily with samples from teeth and bones, rather than from soft tissue. Three mummies yielded readable samples of DNA from cell nuclei, which includes DNA from both parents. The mummies ranged in age of origin from 1388 B.C. to A.D. 426.
The analysis reveals genetic ties to the Middle East and Greece — not a huge surprise since Egypt was a center of travel and trade at that time. The conspicuous absence of genetic connections to sub-Saharan Africa seen in modern Egyptians points to a later influx of foreigners from that region, the researchers write May 30 in Nature Communications.
---
Read another version of this story at Science News for Students