Risk of travelers to Olympics sparking new Zika outbreaks low
Just 4 of 206 countries vulnerable, CDC says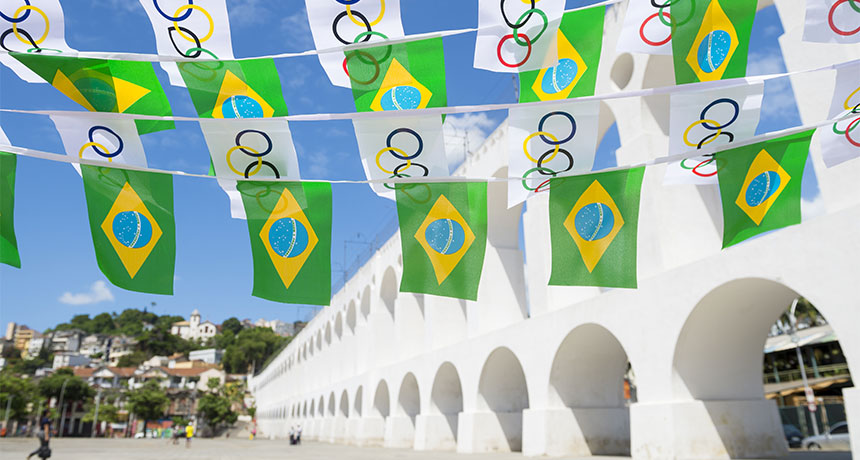 Any traveler to the Olympics could potentially bring Zika home, but just four countries bear a substantial risk of seeing the virus spread.  
Chad, Djibouti, Eritrea and Yemen all have the right ingredients to sustain mosquito-borne transmission, researchers report July 13 in a weekly report of the U.S. Centers for Disease Control and Prevention. Few people typically travel from those countries to places where Zika virus is active, but the Olympics will change that.
To gauge the risk of a single person traveling to Rio de Janeiro for the Olympics, becoming infected and then sparking an outbreak back home, CDC scientist Ardath Grills and colleagues analyzed environmental and population data for 206 countries planning to participate in the Games.
All countries risk importing Zika from Rio, the authors write, but only 19 not currently reporting Zika outbreaks have the susceptible populations and environmental conditions needed to keep local transmission going. And all but Chad, Djibouti, Eritrea and Yemen already have lots of travelers trekking back and forth from Zika-afflicted countries.
For most countries, including the United States, travel to the Olympics doesn't add much to the risk (SN Online: 6/14/16). (Overall, the number of people planning to travel to the Games — up to an estimated 500,000 — is less than 0.25 percent of the total number of travelers in 2015 to countries with Zika, the researchers estimate.)
The new analysis is based on "worst-case scenarios," the authors say. It does not change current public health warnings: Pregnant women should steer clear of the Games and people should take steps to avoid spreading the virus via sexual transmission when they return home.