Add penis bacteria to the list of HIV risk factors
Microbes that thrive in oxygen-poor places may lure virus's prey: vulnerable immune cells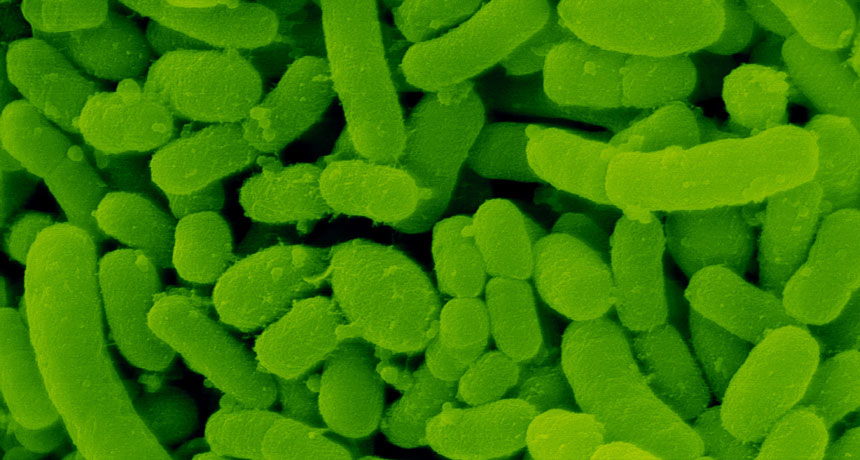 Out-of-whack microbes in the vagina can raise HIV risk — and now there's evidence that the makeup of the penis microbiome matters, too. The greater the number of anaerobic bacteria tucked under the foreskin, the more likely an uncircumcised man is to become infected with the virus, researchers report July 25 in mBio.
"This mirrors what's been seen in women, but it's the first study of its kind in men," says Deborah Anderson, a microbiologist and gynecologist at Boston University School of Medicine.
The data come from heterosexual Ugandan men followed for two years as part of a larger study on circumcision. Researchers swabbed the men's penises to collect bacteria samples at the beginning of the two-year study. Then they compared the penile bacterial composition of the 46 uncircumcised men who became infected with HIV over the course of the study with that of 136 uncircumcised men who didn't.
The total amount of penile bacteria didn't differ, but men with higher levels of anaerobic bacteria were more likely to have contracted HIV, researchers found. Having 10 times more Prevotella, Dialister, Finegoldia and Peptoniphilus bacteria raised the risk of contracting HIV by 54 to 63 percent after controlling for other factors that might affect risk, such as condom use habits and number of sexual partners.
The results might help explain why circumcision cuts the risk of HIV, says Thomas Hope, a cell biologist at Northwestern University Feinberg School of Medicine in Chicago: Removing the flap of foreskin takes away a moist hideout for bacteria that thrive in oxygen-starved environments. But, Hope cautions, the study only draws an association between the microbiome and HIV — not necessarily a cause and effect.  
It's not clear how certain bacteria might raise HIV risk, but the new study revealed one possible clue: Men with more anaerobic penis bacteria also had higher levels of inflammatory cytokine proteins, which call immune cells to the scene.  
"Specific bacteria might cause inflammatory response that would cause the immune cells to congregate in the penis, where they're more likely to be exposed to the virus," says study coauthor Cindy Liu, a pathologist at George Washington University in Washington, D.C. HIV targets particular immune cells, so recruiting an immune response to the penis might have an unintended consequence — a free ferry ride for the virus into the bloodstream.
Liu and colleagues hope to test that explanation more thoroughly by looking at tissue samples from circumcised foreskins, and seeing whether there's a relationship between the penis microbiome and the kinds of immune cells found in the foreskin.
Some of these same bacteria are also linked to increased HIV risk in women, and the microbes can be swapped between partners during sex. While practicing safe sex is still the best HIV-prevention strategy, topical creams that adjust the bacterial balance on the penis might someday help lower the risk of infection, Liu says.