Ancient microbe fossils show earliest evidence of shell making
809-million-year-old eukaryotes turned calcium phosphate into armor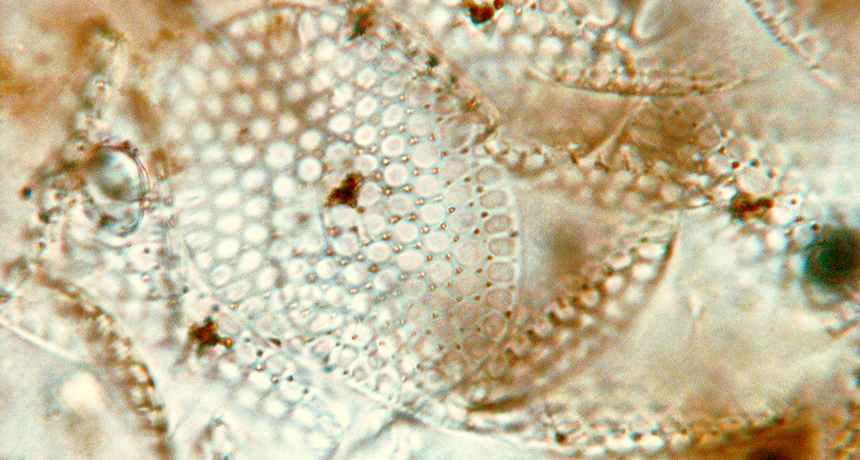 DENVER — Life on Earth got into the shell game more than 200 million years earlier than previously thought.
Fossilized eukaryotes — complex life-forms that include animals and plants — discovered in Canada are decked out in armorlike layers of mineral plates, paleobiologist Phoebe Cohen said September 27 at the Geological Society of America's annual meeting. At about 809 million years old, the find is the oldest evidence of organisms controlling the formation of minerals, a process called biomineralization.
Science News headlines, in your inbox
Headlines and summaries of the latest Science News articles, delivered to your email inbox every Thursday.
Thank you for signing up!
There was a problem signing you up.
This new origin of biomineralization coincides with major changes that mark the end of a period known as the "boring billion" (SN: 11/14/15, p. 18), said Stanford University paleontologist Erik Sperling, who was not involved in the discovery. "There were big things going on with ocean chemistry," he said. "It's interesting to see the biological response."
These ancient eukaryotes built their exoskeletons using a very different process from most modern shell-making microbes. That uniqueness offers insights into how the mineral-making ability first evolved, said Cohen, who studies ancient ecosystems at Williams College in Williamstown, Mass.
"We have been able to identify specific conditions that facilitated the evolution of the first eukaryote to biomineralize in Earth's history," she said. "It paints a beautiful picture of the ecology and evolution and environmental conditions that led to this dramatic innovation."
Donning an exoskeleton of minerals protects microbes from predators and forms a crucial stage in the modern carbon cycle. The shells make marine microbes such as certain phytoplankton species sink faster after they die, removing carbon from the upper ocean. Previous clear evidence of eukaryote biomineralization dates back to around 560 million years ago in early corallike animals.
Subscribe to Science News
Get great science journalism, from the most trusted source, delivered to your doorstep.
Odd fossils discovered in the late 1970s and covered in mineral plates shaped like circles, squares and "Honeycomb cereal" (as Cohen described them) hinted that the skill evolved much earlier, but the discovery raised many questions. Dating techniques then put the age of the fossils somewhere within a 100-million-year range from about 811 million to 717 million years ago, and scientists couldn't rule out that the fossils' scalelike minerals formed after the organisms died.
Cohen and colleagues revisited these curious fossils. By accurately dating the organic-rich shale a few meters below the fossils in the rock record, the researchers pegged the fossils' age at 809 million years old, give or take a few million years. An electron microscope let researchers see that each plate is a weave of elongated mineral fibers. This intricate, orderly design had to have been purposefully built by life manipulating mineral formation, Cohen said.
The mineral plates themselves are odd. Most modern microbes make shells out of calcium carbonate, but the ancient shells are made of calcium phosphate, the same crystal used in human teeth enamel. Today, phosphate is limited in the environment and most microbes avoid wasting it.
That may not have been as much of an issue in the marine basin where the eukaryotes lived, the researchers found. Analysis of rocks surrounding the fossils indicate that the amount of oxygen in the waters where the eukaryotes lived was inconsistent. Fluctuating oxygen levels pulled phosphate from underlying sediment into the water, where it was available for mineral making. These favorable conditions plus the need for protection from predation (SN: 11/28/15, p. 13) probably drove the first evolution of biomineralization, Cohen said. Eventually the environment changed, and these shell-making species died out.