Ancient ozone holes may have sterilized forests 252 million years ago
Barren trees could have collapsed food webs, leading to Earth's greatest mass extinction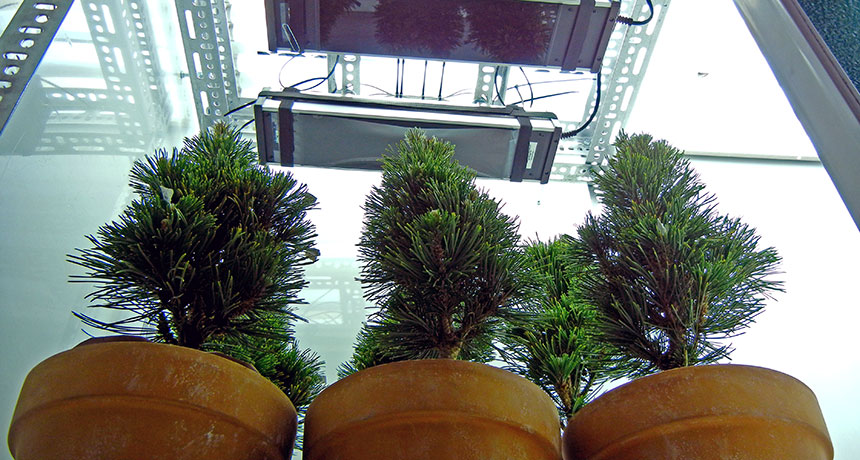 Volcano-fueled holes in Earth's ozone layer 252 million years ago may have repeatedly sterilized large swaths of forest, setting the stage for the world's largest mass extinction event. Such holes would have allowed ultraviolet-B radiation to blast the planet. Even radiation levels below those predicted for the end of the Permian period damage trees' abilities to make seeds, researchers report February 7 in Science Advances.
Jeffrey Benca, a paleobotanist at the University of California, Berkeley, and his colleagues exposed plantings of modern dwarf pine tree (Pinus mugo) to varying levels of UV-B radiation. Those levels ranged from none to up to 93 kilojoules per square meter per day. According to previous simulations, UV-B radiation at the end of the Permian may have increased from a background level of 10 kilojoules (just above current ambient levels) to as much as 100 kilojoules, due to large concentrations of ozone-damaging halogens spewed from volcanoes (SN: 1/15/11, p. 12).
Exposure to higher UV-B levels led to more malformed pollen, the researchers found, with up to 13 percent of the pollen grains deformed under the highest conditions. And although the trees survived the heightened irradiation, the trees' ovulate cones — cones that, when fertilized by pollen, become seeds — did not. But the trees weren't permanently sterilized: Once removed from extra UV-B exposure, the trees could reproduce again.
The finding supports previous research suggesting that colossal volcanic eruptions in what's now Siberia, about 300,000 years before the onset of the extinction event, probably triggered the die-off of nearly all marine species and two-thirds of species living on land (SN: 9/19/15, p. 10). Repeated pulses of volcanism at the end of the Permian may have led to several periods of irradiation that sterilized the forests, causing a catastrophic breakdown of food webs, the researchers say — an indirect but effective way to kill.