Babies born in opioid withdrawal have unusually small heads
A new study suggests the drugs may impair brain growth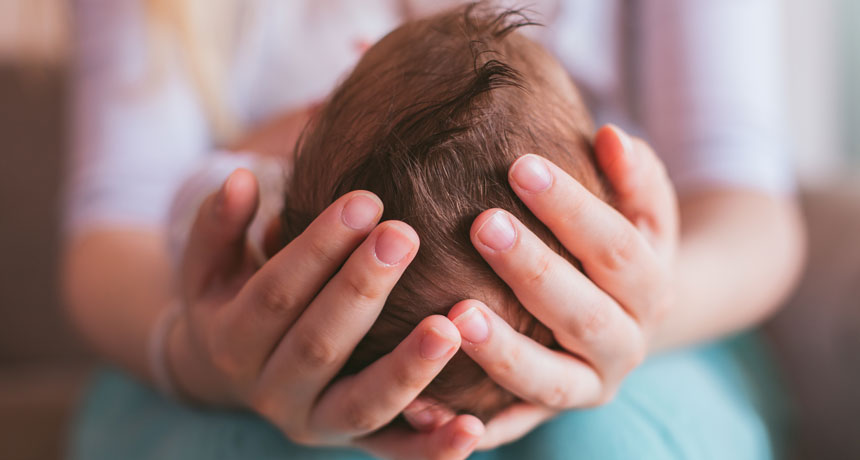 Babies born dependent on opioids have smaller heads than babies not exposed to the drugs in the womb.
The finding, published online December 10 in Pediatrics, raises concerns that the drugs are impairing brain growth during development. And it highlights questions about the safest approach to managing opioid addiction during pregnancy, researchers say.
Pregnant women who use opioids — or the drugs methadone or buprenorphine, opioids taken to treat addiction — pass the drugs through the bloodstream to babies. Infants can become dependent on the drugs in the womb, and experience withdrawal symptoms after birth. The disorder, marked by excessive crying, tremors or difficulty sleeping or feeding, is called neonatal abstinence syndrome, or NAS (SN: 6/10/17, p. 16).
In the new study, researchers compared the head sizes of close to 860 babies born from 2014 to 2016, half with NAS and half from mothers who had not taken opioids while pregnant. Newborns with NAS had a head circumference nearly 1 centimeter smaller, on average, than babies not exposed to the drugs, the team found. And of the NAS babies, 30 percent had especially small heads. That was true for only 12 percent of babies without the condition.
A smaller head is a possible sign of a smaller brain. The new work suggests that for those NAS babies who later have learning and behavioral problems, a contributing factor may be the effect of opioids on brain growth and development, says neonatologist Jonathan Davis.
But it will be essential to determine "the actual impact of the smaller heads on how these children are developing," says Davis, of Floating Hospital for Children at Tufts Medical Center in Boston.
The United States is mired in an opioid addiction crisis, and even babies haven't escaped unscathed (SN: 9/15/18, p. 5). From 1999 to 2013, the overall number of new NAS cases in 28 states rose nearly 300 percent, to six cases per 1,000 hospital births, according to the U.S. Centers for Disease Control and Prevention. Vermont and West Virginia — states hit hard by the epidemic — each reported more than 30 cases per 1,000 births in 2013.
Craig Towers, a maternal fetal medicine specialist and coauthor of the study, practices in the Appalachian region of eastern Tennessee, another area suffering from the opioid crisis. In 2014, 16 counties in the area had 28.5 NAS cases per 1,000 births. While caring for his many pregnant patients with opioid-use disorder, Towers, of the University of Tennessee Medical Center in Knoxville, noticed their newborns' head sizes "were kind of small." So he and his colleagues devised the study to find out whether the observation held true.
Subscribe to Science News
Get great science journalism, from the most trusted source, delivered to your doorstep.
The researchers also found that 372 of the babies with NAS, or 87 percent, had mothers who took methadone or buprenorphine during pregnancy to treat their opioid addiction. These drugs reduce opioid cravings and withdrawal symptoms without producing a high and, combined with counseling, can reduce illicit drug use and the risk of dying from an overdose.
Called medication-assisted treatment, the therapy — which can still lead to NAS — is recommended for opioid-addicted pregnant women. That's because it's generally thought that withdrawing from opioids while pregnant could harm the fetus or put mothers at risk of relapse.
But that recommendation, Towers says, largely stems from two case studies published in the 1970s, which reported a stillbirth and fetal stress following a narcotic or methadone withdrawal, respectively. Studies since then have found that a gradual withdrawal from opioids, including methadone, during pregnancy did not harm the fetus, he says.
Still, the treatment is the first step for pregnant women addicted to opioids. "You have to get off the street stuff," Towers says. "It's not pure, and it's killing people." But it should be a woman's choice whether to continue with medication-assisted treatment or to undergo a medically supervised, gradual withdrawal, he says.
If a woman doesn't think withdrawal will work — perhaps she struggled with a past attempt, or her partner still uses drugs — then maintaining the treatment may be the safer course of action, Towers says. Meanwhile, some pregnant patients have made it clear to Towers that they don't want to be on the drugs.
With medication-assisted treatment, "we recognize it's not perfect," Davis says. The research community continues to look for safer alternatives to manage addiction, and ways to identify the moms for whom a withdrawal from medication-assisted treatment is safe, he says.