Delusions of skin infestation may not be so rare
Researchers calculate the U.S. prevalence of 'delusional infestation'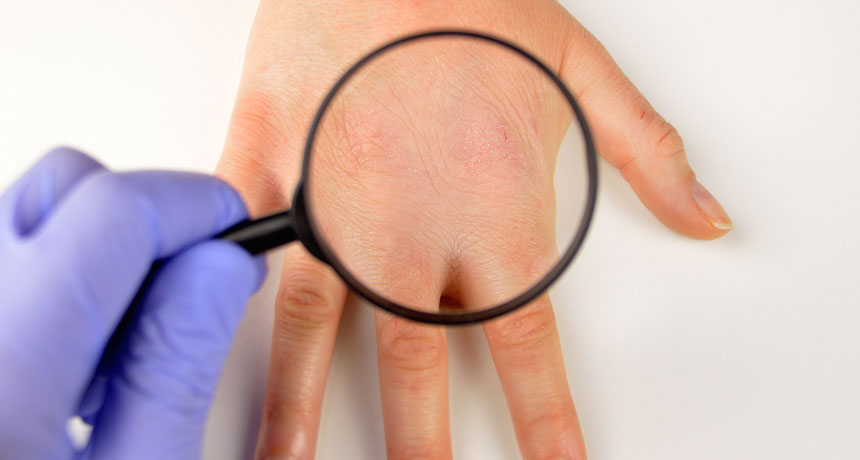 Delusional infestation
de-LU-zhen-al in-fes-TAY-shun n.
A deep conviction that one's skin is contaminated with insects or other objects despite a lack of medical evidence.
She was certain her skin was infested: Insects were jumping off; fibers were poking out. Fearful her condition could spread to others, the 50-year-old patient told doctors at the Mayo Clinic in Rochester, Minn., that she was avoiding contact with her children and friends.
The patient had delusional infestation, explains Mayo Clinic dermatologist Mark Davis. Sufferers have an unshaking belief that pathogens or inanimate objects pollute their skin despite no medical evidence. Davis and colleagues report online April 4 in JAMA Dermatology that the disorder is not as rare as previously assumed.
Science News headlines, in your inbox
Headlines and summaries of the latest Science News articles, delivered to your email inbox every Thursday.
Thank you for signing up!
There was a problem signing you up.
In the first population-based study of the disorder's prevalence, the researchers identified 35 cases from 1976 to 2010 reported in Minnesota's Olmsted County. Based on the findings, the authors estimate 27 out of every 100,000 people in the United States have delusional infestation. Due to the county's lack of diversity — the population of about 150,000 is predominantly white — the researchers used only the nationwide white population to estimate prevalence, so the result may not be representative of other populations.
Delusional infestation has been recognized for decades, albeit under different names. Patients insist they've been overtaken with creatures, such as insects, worms or parasites, or inanimate materials like fibers — or both.
Subscribe to Science News
Get great science journalism, from the most trusted source, delivered to your doorstep.
"It's like aliens have infested their skin," Davis says. Some present bagged samples of the claimed culprits, which turn out to be such debris as sand, dander or, as in the case of the 50-year-old woman, bits of skin and scabs. When lab tests confirm no infestation, patients often seek another opinion rather than accept the findings. Some attempt risky self-treatments, such as bathing in kerosene or bleach, or tweezing or cutting the skin.
Schizophrenia, dementia or other psychiatric illnesses can trigger delusional infestation. So can  such drugs as amphetamines or cocaine. But when no other illness is involved, patients often reject the notion that the issue is psychiatric and tend to refuse the antipsychotic medications that can help, Davis says.
As for the 50-year-old patient, upset with the doctors' diagnosis, she no longer comes to the Mayo Clinic.