Swooping gulls, salty breezes, and waves gently kissing the shore—a week at the beach can generate lifelong memories.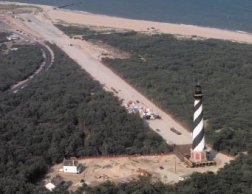 Especially if your beach house topples into the ocean. A study released by the Federal Emergency Management Agency last week suggests that in the next 60 years, up to a quarter of the beach houses in the United States will be nothing but a memory. The inexorable forces of storm, surf, and slowly rising sea levels will claim about 1,500 structures a year, the researchers predict. Including the land under these structures, coastal erosion will cause annual property losses of about $530 million, according to the report.
The study, prepared for the agency by the H. John Heinz III Center for Science, Economics, and the Environment in Washington, D.C., studied erosion in 18 counties that represent 1 percent of all U.S. coastlines outside of Alaska.
The study found that, on average, shores bordering the Gulf of Mexico lose about 6 feet of beach each year, says Robert M. Friedman, vice president for research for the center.
Annual erosion rates along the Atlantic coast are 2 to 3 feet, he adds. Coastlines along the Pacific Ocean and the Great Lakes lose about a foot or less each year.
Outside of major urban areas such as New York City and Miami, there are nearly 340,000 buildings within 500 feet of the ocean and Great Lakes shorelines. Of these, Friedman says, about 87,000 are on beaches or bluffs likely to erode in the next 60 years.
Although the Atlantic Ocean and the Gulf of Mexico include only 45 percent of the nation's shoreline, Friedman says that these areas are likely to account for about 75 percent of the structures lost. Not only are erosion rates higher there, but buildings are more concentrated, he explains. The Atlantic Coast is home to more than half of threatened structures in nonurban areas.
Subscribe to Science News
Get great science journalism, from the most trusted source, delivered to your doorstep.
The study assumes that sea levels will continue to rise at about 6 inches per 100 years, the same rate observed in the past century. However, the researchers also note 1996 figures from the Intergovernmental Panel on Climate Change. It warned that global warming could raise sea levels an additional 4 inches in the next 50 years. That amount of water could erode 50 more feet of unprotected sandy beaches than the current survey assumes and threaten even more homes.
Friedman says it would cost the federal government about $5 million per year to identify, map, and maintain and disseminate information about coastal erosion hazards. This investment, however, could save prospective homeowners, insurers, and government agencies a lot of money, he says.
For example, the study found that if all empty lots in areas susceptible to erosion were left undeveloped, the United States could avoid about $100 million in annual damage to structures alone.
"The only way to stop these losses is to not build on the beach and dunes," says Susan D. Halsey, coastal geologist with the New Jersey Department of Environmental Protection in Trenton. "There's not enough sand in the Sahara to renourish these [eroding] beaches."