Fungi aid immune system's fight
Scientists have discovered that white button mushrooms, the plain Janes of edible fungi, are actually quite stimulating. Their powder seems to jump-start the immune response of cells taken from mice, a new study finds.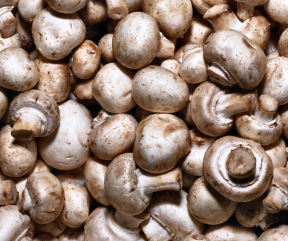 Researchers had already found that feeding mice white button–mushroom powder cranked up the activity of natural killer cells, an execution squad of the immune system. In the new study, a team led by nutritional immunologist Dayong Wu of Tufts University looked into the effect of white button–mushroom powder on dendritic cells derived from mouse bone marrow. Dendritic cells engulf suspicious foreign molecules and tidily repackage them for presentation to T cells so that T cells can later recognize the bad molecules themselves.
The young dendritic cells in the presence of the mushroom powder matured faster than cells without powder, the researchers report in the March issue of the Journal of Nutrition. The team also added mushroom powder to dishes of mature dendritic cells that were exposed to a foreign bit of protein. T cell activity in these cultures accelerated, suggesting that the dendritic cells were busily teaching the T cells their foreign targets, says Wu.
The revved-up immune response may be triggered by polysaccharides in the mushroom's cell wall, perhaps because the starches aren't present in animal cells, the researchers speculate. Future studies will further investigate the immune response of mice that have eaten the mushrooms. And Wu? He prefers portabellas, a dark strain of the same species, Agaricus bisporus, which are harvested after their brown gills open. "Especially barbecued," he says.