How dad's stress changes his sperm
RNA-packed vesicles that glom on to the germ cells can be altered by a stress hormone, a mouse study suggests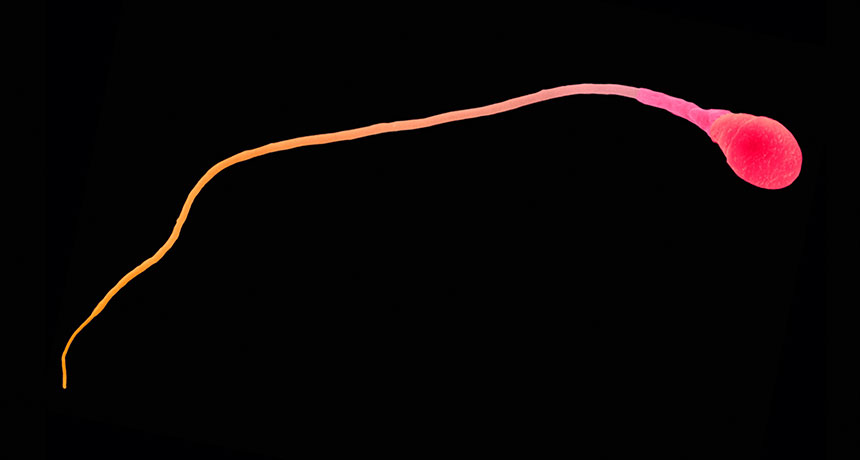 Sperm from stressed-out dads can carry that stress from one generation to another. "But one question that really hasn't been addressed is, 'How do dad's experiences actually change his germ cell?'" Jennifer Chan, a neuroendocrinologist at the University of Pennsylvania, said November 13 in Washington, D.C., at the annual meeting of the Society for Neuroscience.
Now, from a study in mice, Chan and her colleagues have some answers, and even hints at ways to stop this stress inheritance.
Science News headlines, in your inbox
Headlines and summaries of the latest Science News articles, delivered to your email inbox every Thursday.
Thank you for signing up!
There was a problem signing you up.
The researchers focused on the part of the male reproductive tract called the caput epididymis, a place where sperm cells mature. Getting rid of a stress-hormone sensor there called the glucocorticoid receptor stopped the transmission of stress, the researchers found. When faced with an alarming predator odor, offspring of chronically stressed mice dads overproduce the stress hormone corticosterone. But mice dads that lacked this receptor in the epididymis had offspring with normal hormonal responses.
Earlier work has shown that epididymis cells release small packets filled with RNA that can fuse to sperm and change their genetic payload. Experiments on cells in dishes revealed that chronic exposure to corticosterone changed the RNA in these vesicles. The results offer an explanation of how stress can change sperm: By activating the glucocorticoid receptor, stress tweaks the RNA in epididymis vesicles. Then, those vesicles deliver their altered contents to sperm, passing stress to the next generation.
Similar vesicles are present in human seminal fluid, even after ejaculation. Chan and colleagues are testing whether humans carry similar signs of stress in these RNA-loaded vesicles by studying college students' semen samples. Exam schedules will be used as a stress indicator, she said.