Long-ignored, high-flying arthropods could make up largest land migrations
Each year, 3.5 trillion aphids, moths, flies and their kin fly over southern United Kingdom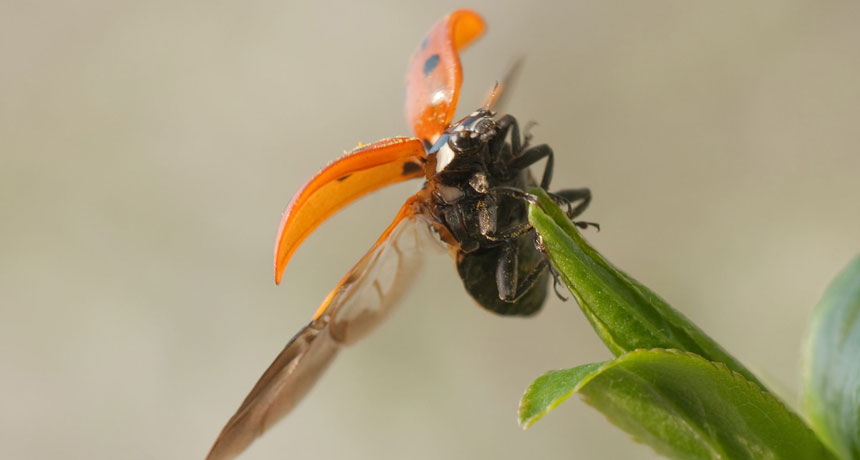 Forget honking Vs of geese or gathering herds of wildebeests. The biggest yearly mass movements of land animals may be the largely overlooked flights of aphids, moths, beetles, flies, spiders and their kin.
About 3.5 trillion arthropods fly or windsurf over the southern United Kingdom annually, researchers say after analyzing a decade of data from special entomological radar and net sweeps. The larger species in the study tended to flow in a consistent direction, suggesting that more species may have specialized biology for seasonal migrations than scientists realized, says study coauthor Jason Chapman, now at the University of Exeter in Penryn, England.
The creatures detected in the study may be little, but they add up to roughly 3,200 metric tons of animal weight, Chapman and colleagues report in the Dec. 23 Science. That's 7.7 times the tonnage of U.K. songbirds migrating to Africa and equivalent to about 20,000 (flying) reindeer.
These are "huge flows of biomass and nutrients," Chapman says. "One of the things we hope to achieve in this work is to convince people who are studying terrestrial ecosystems that they cannot ignore what's happening in the skies above them."
Story continues below image.
Not just windblown
Most migrants were tiny and so traveled with the wind, causing the bulge in dark dots, which represent mass migrations, to the northeast on compass rim (left circle). Yet insects of medium size or larger could buck the trend, flying northwest in spring (middle and right circles) and south in fall. Arrows indicate average migration direction.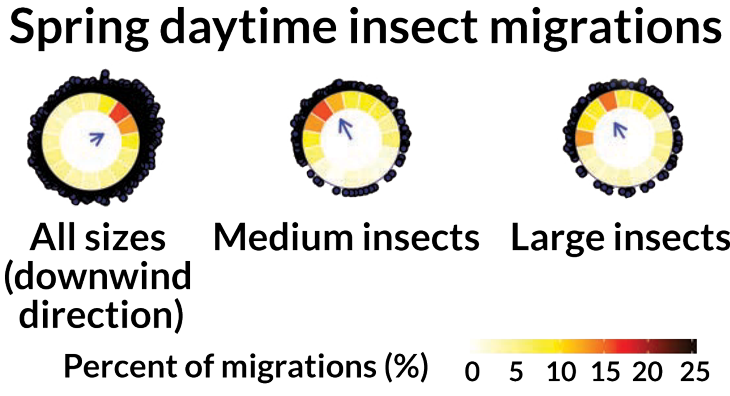 Biologist Martin Wikelski of the Max Planck Institute for Ornithology in Radolfzell, Germany, who wasn't part of the study, calls these migrants "aerial plankton." It's a reference to the much-studied tiny sea creatures whose movements and blooms power oceanic food webs. Understanding insect migrations and abundances is crucial for figuring out food webs on land, including those that link insects and birds. That's "particularly important nowadays as we are starting to lose many of our songbirds," he says.
Subscribe to Science News
Get great science journalism, from the most trusted source, delivered to your doorstep.
The word migration applied to arthropod movements doesn't mean one animal's roundtrip, Chapman says. Instead, the term describes leaving the home range and undertaking a sustained journey, maybe cued by seasons changing or food dwindling. A return trip, if there is one, could be the job of a future generation.
The migrants he studied, traveling at least 150 meters aboveground, aren't just accidentally blowing in the wind, he says. Many of the tiniest — aphids and such that weigh less than 10 milligrams — take specific measures to start their journey, such as trekking to the top of a plant to catch a gust. Juvenile spiders stand on tiptoe reeling out silk until a breeze tugs a strand, and them, into the air. "They only do this when wind conditions will enable them to be caught and taken up; otherwise, it's a terrible waste of silk," Chapman says. Some caterpillars also spin silk to travel, and mites, with neither wings nor silk, can surf themselves into a good breeze.
The basic idea that a lot of arthropods migrate overhead is "absolutely not" a surprise to behavioral and evolutionary biologist Hugh Dingle of the University of California, Davis. He says so not dismissively, but joyously: "Now we have really good data."
This smallest class of migrants, sampled with nets suspended from a big balloon, makes up more than 99 percent of the individual arthropods and about 80 percent of the total mass. They didn't show an overall trend in flight direction. But radar techniques refined at Rothamsted Research in Harpenden, England, showed distinct seasonal patterns in direction for medium-sized and larger insects.
"That's the big surprise for us," Chapman says. "We assumed that those flows would just be determined by the wind." But medium-sized and large insects such as lacewings and moths overall tended to head northward from May through June regardless of typical wind direction. And in August and September, they tended southward. "Lots of insects we didn't think capable of this are clearly doing it," he says.
Managing such a feat takes specialized biology for directed, seasonal migrations. Many of these arthropods must have some form of built-in compass plus a preferred direction and the genetics that change that preference as they or their offspring make the return migration. Entomologists have known some migratory details of monarch butterflies in North America and a handful of other such insects, many of them pest moths. But speculating about specialized migrants, Chapman says, "there must be thousands of these."