The #MeToo movement shook up workplace policies in science
New research seeks to better understand how sexual harassment affects women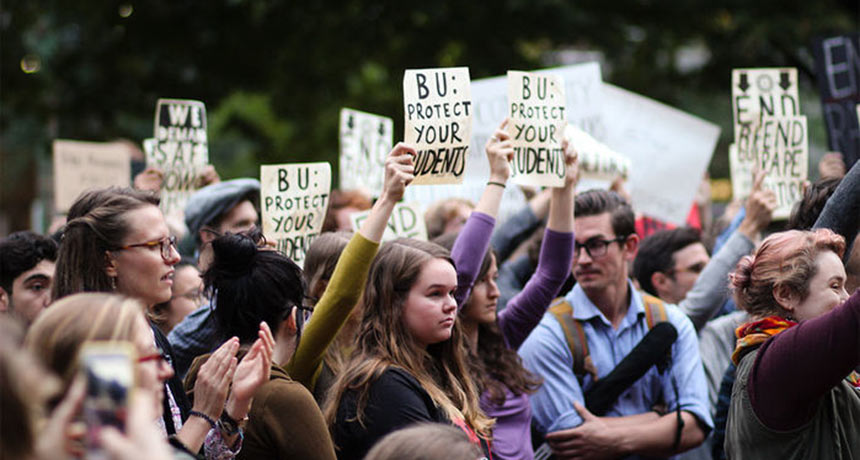 Science is catching up to Hollywood in coming to terms with its own #MeToo moment. In the last year or so, several high-profile scientists left their posts after investigations of sexual harassment allegations, including geneticist Francisco Ayala, cancer biologist Inder Verma and astrophysicist Christian Ott. But getting rid of the "bad actors" isn't enough, according to a report released in June by the National Academies of Sciences, Engineering and Medicine (SN Online: 6/22/18). The report, along with the rise of #MeToo in science, has begun to spur institutional changes.
The problem is widespread in the United States, according to the report. Of nearly 18,000 female undergraduate and graduate students surveyed at the University of Texas System, 20 percent of the science students, 27 percent of the engineering students and 47 percent of the medical students said they had experienced sexual harassment from faculty or staff.
"We recognize that we need to change the culture and environment that is allowing sexual harassment to continue," Victor Dzau, president of the National Academy of Medicine, said in Washington, D.C., in November at a workshop on best practices for preventing sexual harassment.
As of October, the National Science Foundation requires institutions to report confirmed cases of harassment by researchers who are receiving NSF funding. Failure to do so could result in the removal of scientists from a project or termination of funding. The Food and Drug Administration and the National Institutes of Health, however, have been under fire for not amending policies quickly enough or going far enough to punish abusers who receive government funding.
"There are a lot of individuals in academia and scientists specifically that are eager for change and don't really see why it's taking so long," says Kate Clancy, an anthropologist at the University of Illinois at Urbana-Champaign and a coauthor of the National Academies report.
#MeToo in academia
Of more than 28,000 undergraduate and graduate students surveyed from 2015–2016 at the University of Texas System, more women than men experienced sexual harassment from faculty or staff. Women studying medicine experienced higher levels of harassment than those in science, engineering or non-SEM fields.
H. Thompson
To guide institutions on adopting new and effective policies, more research is needed on how best to prevent harassment in science, says U.S. Rep. Eddie Bernice Johnson, D-Texas. "When we begin to study and acknowledge what harassment means in these different environments, across all professions and certainly all scientific areas, we are more likely to address it," she says. "I don't think we have the luxury of thinking that it will just go away." Johnson introduced a bill in Congress in October to provide $17.4 million in federal funding to study the factors and consequences of sexual harassment in science, technology, engineering and math.
That funding, if the bill is enacted, could aid the kind of research that Clancy is doing. In 2014, she and colleagues reported that out of a sample of about 500 female scientists, 71 percent said they had been sexually harassed during field research and 26 percent said they had been sexually assaulted. Isolating environments and other factors can make field research ripe for sexual misconduct when rules and policies aren't expressed or enforced, Clancy and colleagues noted.
Follow-up research published in 2017 indicates that embracing codes of conduct, enforcing consequences for perpetrators and providing protection for targets and bystanders who report an incident could help deter sexual harassment and keep more women in the sciences. Clancy is now working on other studies about sexual harassment in science, including an investigation of the rate of sexual harassment among female undergraduate physics majors.
71
percent
Proportion of female scientists who said they had been sexually harassed during field research
Subscribe to Science News
Get great science journalism, from the most trusted source, delivered to your doorstep.
Other researchers are looking at how atypical work settings can lead to sexual harassment and ways to better inform intervention techniques and bystander training. Reshma Jagsi, director of the Center for Bioethics and Social Sciences in Medicine at the University of Michigan in Ann Arbor, is studying the experiences of people in health care who work odd hours, such as nurses who work the night shift when fewer people are around.
"Efforts like these are essential to developing evidence with which we ground our intervention strategies," Jagsi says.
One common intervention approach at universities and other institutions is sexual harassment training, though not many studies have tested the effectiveness of such training. An analysis of 15 studies including more than 6,000 college students across the United States found that bystander training — in which people learn how to intervene when witnessing an incident — may be effective, researchers reported online September 27 in the Journal of Youth and Adolescence. Although the number of bystander interventions varied widely among students, those who participated in training intervened in two more incidences on average compared with untrained students.
"I think this is an incredibly important moment in history," Jagsi says. "The #MeToo movement has opened up an incredible awareness that I hope will lead to meaningful change in the sciences."