Millions of women at risk of malaria during pregnancy
Potential problems include undetected illness and anemia in mothers, stillbirth and low birth weight in newborns
Roughly 125 million women worldwide get pregnant in malarial regions each year, exposing them to a wide range of complications, researchers report online January 26 in PLoS Medicine.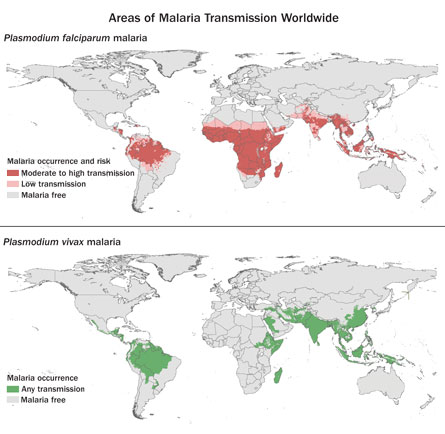 The new study is the first to put a solid number on this high-risk population, says coauthor Feiko ter Kuile, a physician and medical epidemiologist at the Liverpool School of Tropical Medicine in England. The 125 million pregnancies were tallied in malarial zones in 2007 and constituted roughly 60 percent of all pregnancies worldwide that year.
Women who contract malaria during pregnancy can develop anemia and carry the malaria infection for longer than usual because the parasite hides in the placenta. This allows parasites to evade immune detection.
The risks are even greater for fetuses. Malaria parasites infesting red blood cells in the placenta rob a fetus of oxygen and nutrients. The result is a heightened rate of miscarriage, stillbirth and low-birth-weight babies, ter Kuile says. Babies born to mothers with malaria often fall prey to other infections as newborns, he says.
The malaria-causing parasite Plasmodium falciparum, a tropical scourge, causes the most severe disease. But the parasite Plasmodium vivax actually threatens more people with malaria worldwide, infesting subtropical and temperate zones. What's more, certain medications against P. vivax are not recommended for pregnant women, limiting treatment options.
The best approach is to give pregnant women in malarial zones a protective course of safe drugs to prevent the disease, ter Kuile says, in particular the artemisinins. Further studies will attempt to clarify how many women worldwide actually contract malaria during pregnancy, he says.