TESS has found the first-ever 'ultrahot Neptune'
The exoplanet may be shifting from a hot Jupiter to a scorched Earth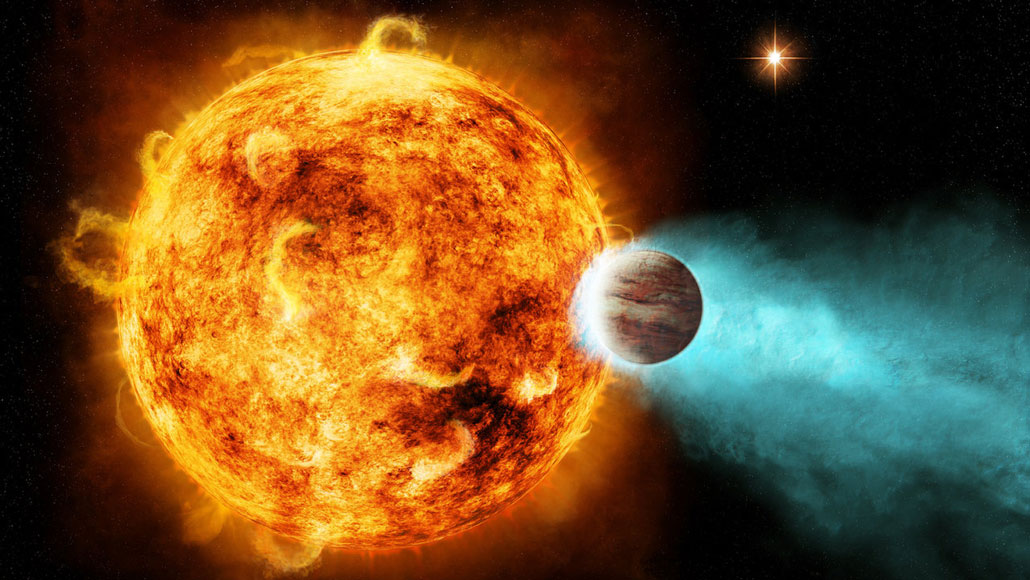 CAMBRIDGE, Mass. — Astronomers have spotted a new kind of planet: a Neptune-sized world sitting scorchingly close to its star. It could be in the midst of transforming from a hot, puffy gas giant to a naked rocky core, astronomer James Jenkins reported July 29 at the TESS Science Conference at MIT.
"This planet is amazing. It's the first of its kind," says astronomer Elisabeth Adams of the Planetary Science Institute, who is based in Somerville, Mass. Adams studies larger planets that orbit close to their stars, but wasn't involved in the discovery.
Science News headlines, in your inbox
Headlines and summaries of the latest Science News articles, delivered to your email inbox every Thursday.
Thank you for signing up!
There was a problem signing you up.
The planet, called LTT 9779b, orbits a sunlike star about 260 light-years away. It was discovered by NASA's Transiting Exoplanet Survey Satellite, or TESS, which launched in April 2018 (SN: 5/12/18, p. 7). Data collected by TESS show that the planet swings around its star once every 19 hours, putting it in a rare class of planets that orbit incredibly close to their stars.
Most other planets with such close orbits are either Earth-sized or Jupiter-sized and larger, said Jenkins, of the University of Chile in Santiago. But LTT 9779b is 4.6 times Earth's size and 29.3 times Earth's mass, placing it right in the middle of those extremes. Its proximity to its star should heat it to about 2000 kelvins (about 1725° Celsius), making it the first known ultrahot Neptune, Jenkins said.
One explanation for how close-in planets get cozy with their stars is that the worlds form farther away and migrate closer over time (SN: 5/12/18, p. 28). A planet that had a thick, gaseous atmosphere might lose more and more of that gas the closer it comes to its star, as the heat evaporates the atmosphere or the star's gravity steals the gas away.
At about 2.5 million kilometers from its star, LTT 9779b may be about the closest a planet can physically get before the star gobbles up all of the atmosphere. If so, it could be a bridge between exoplanets called hot Jupiters, which are gas giants like Jupiter but have much closer-in orbits, and smaller, scorched rocky worlds, Jenkins suggested. The new planet is much smaller than a hot Jupiter, but still has a thick atmosphere that makes up about 9 percent of its mass, he said.  
Subscribe to Science News
Get great science journalism, from the most trusted source, delivered to your doorstep.
The next step is to measure how quickly LTT 9779b is losing mass, Adams says. If it's rapid, that could explain why no other ultrahot Neptunes have been discovered: They shift from gas giant to rocky core too quickly. Finding one mid-transition may have been a stroke of luck.