Radioactive material from Fukushima disaster turns up in a surprising place
Some of highest levels of cesium-137 contamination are in groundwater under nearby sandy beaches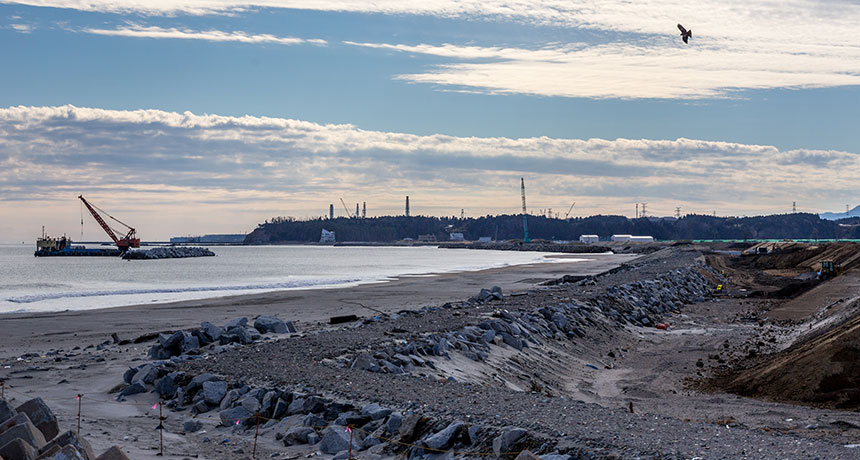 Six years after the Fukushima nuclear reactor disaster in Japan, radioactive material is leaching into the Pacific Ocean from an unexpected place. Some of the highest levels of radioactive cesium-137, a major by-product of nuclear power generation, are now found in the somewhat salty groundwater beneath sand beaches tens of kilometers away, a new study shows.
Scientists tested for radioactivity at eight different beaches within 100 kilometers of the plant, which experienced three reactor meltdowns when an earthquake and tsunami on March 11, 2011, knocked out its power. Oceans, rivers and fresh groundwater sources are typically monitored for radioactivity following a nuclear accident, but several years following the disaster, those weren't the most contaminated water sources. Instead, brackish groundwater underneath the beaches has accumulated the second highest levels of the radioactive element (surpassed only by the groundwater directly beneath the reactor), researchers report October 2 in the Proceedings of the National Academy of Sciences.
In the wake of the 2011 accident, seawater tainted with high levels of cesium-137 probably traveled along the coast and lapped against these beaches, proposes study coauthor Virginie Sanial, who did the work while at Woods Hole Oceanographic Institution in Massachusetts. Some cesium stuck to the sand and, over time, percolated down to the brackish groundwater beneath. Now, the radioactive material is steadily making its way back into the ocean. The groundwater is releasing the cesium into the coastal ocean at a rate that's on par with the leakage of cesium into the ocean from the reactor site itself, Sanial's team estimates.
Since this water isn't a source of drinking water and is underground, the contamination isn't an immediate public health threat, says Sanial, now a geochemist at the University of Southern Mississippi in Hattiesburg. But with about half of the world's nuclear power plants located on coastlines, such areas are potentially important contamination reservoirs and release sites to monitor after future accidents.