Water may have killed Mars' magnetic field
Extra hydrogen near the Red Planet's core could have shut down convection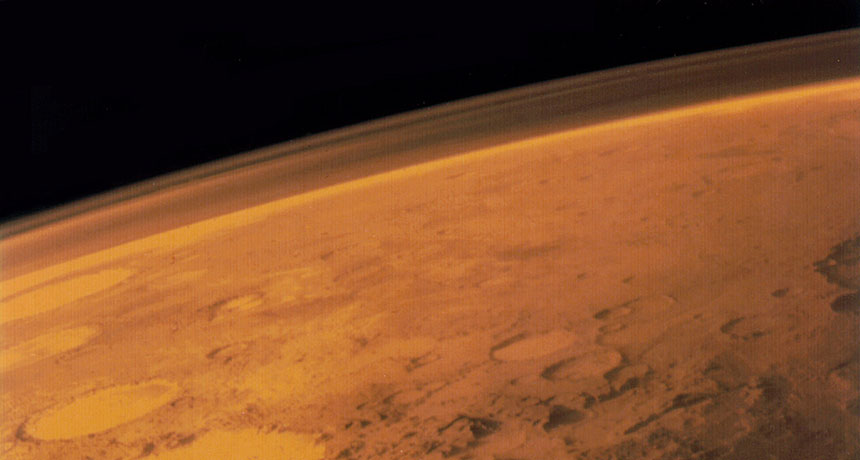 THE WOODLANDS, Texas — Mars' missing magnetic field may have drowned in the planet's core.
An excess of hydrogen, split off from water molecules and stored in the Martian mantle, could have shut down convection, switching the magnetic field off forever, planetary scientist Joseph O'Rourke proposed March 21 at the Lunar and Planetary Science Conference.
Planetary scientists think magnetic fields are produced by the churning of a planet's molten iron core. Convection relies on denser materials sinking into the core, and lighter stuff rising to the surface. The movement of iron, which can carry a charge, generates a strong magnetic field that can protect a planet's atmosphere from being ravaged by solar wind (SN Online: 8/18/17).
Science News headlines, in your inbox
Headlines and summaries of the latest Science News articles, delivered to your email inbox every Thursday.
Thank you for signing up!
There was a problem signing you up.
But if lighter material, like hydrogen, settles close to the iron core, it could block dense material from sinking deep enough to keep convection going, said O'Rourke, of Arizona State University in Tempe.
"Too much hydrogen and you can shut down convection entirely," he said. "Hydrogen is a heartless killer."
O'Rourke and his ASU colleague S.-H. Dan Shim suggested the hydrogen could come from water locked up in Martian minerals. Near the hot core, water would split into hydrogen and oxygen. The oxygen would form compounds with other elements and stay high in the mantle, but the hydrogen could sit atop the core and effectively suffocate the dynamo.
Subscribe to Science News
Get great science journalism, from the most trusted source, delivered to your doorstep.
The question is whether Mars' minerals would have had what it took to deliver the hydrogen at the right time. Mars' crust is rich in the mineral olivine, which does not bond well with water and so is relatively dry.
In the planet's interior, pressure forces olivine to transform into the minerals wadsleyite and ringwoodite, which hold more water. Deeper still, the mineral turns into bridgmanite and becomes dry again. For a time, that bridgmanite layer could act as a buffer against water, allowing the core to keep convecting. But as the mantle cooled, the bridgmanite layer would shrink and eventually disappear, O'Rourke's study suggests.
Whether Mars' interior ever had that saving layer of bridgmanite depends on how big its core is — a property that may be tested by NASA's InSight Mars lander, launching on May 5, O'Rourke said. Mars did have a magnetic field more than 4 billion years ago. Scientists have struggled to explain how it vanished, leaving the planet vulnerable to solar winds, which probably stripped away its atmosphere and surface water (SN: 12/12/15, p. 31).
If hydrogen shut down the planet's generator, it would have had to act fast. Previous observations suggest the magnetic field disappeared relatively rapidly, over 100 million years.
Another theory by James Roberts of the Johns Hopkins Applied Physics Lab in Laurel, Md., suggests a large impact could have shut down the dynamo by heating the outermost core, which would have kept it from sinking.
"It's actually a similar idea to O'Rourke's," Roberts says. It may take many more sophisticated Mars missions to figure out what really happened.