Last year, a provocative study of the 12 most widely used physical science textbooks for middle schools and junior high schools gained renown for demonstrating that all of the books were riddled with errors of fact and failures of presentation (SN: 3/17/01, p. 168: Errant Texts). Physicist John L. Hubisz of North Carolina State University in Raleigh, who spearheaded that study, has just launched a Web site to pick up where the earlier analysis left off.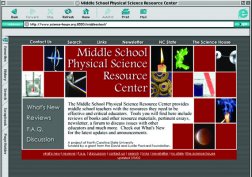 The new Middle School Physical Science Resource Center (http://www.science-house.org/middleschool/) not only presents the original study, with its 100 pages of textbook errors, but it will post similar page-by-page critiques of additional texts. The site will also include suggestions about how parents and teachers can work around the texts' flaws.
During his study of textbooks last year, Hubisz says, he learned much about teachers, including this: although 80 percent never took a physical science course, every elementary school teacher has to teach physics concepts as part of the science curriculum.
"To help these teachers, we need to do a lot more than just report errors," Hubisz says. Toward that end, the new online resource will point to Web sites and other offerings beyond classroom texts. Hubisz is posting essays he's developing on how to enliven the presentation of science by, for example, analyzing how toys work. Finally, the Web site has a portal through which teachers can ask scientists for advice and answers on specific topics.
---