Zika may harm nearly 1 in 7 babies exposed to the virus in the womb
A CDC study of births in U.S. territories tallies birth defects and later health problems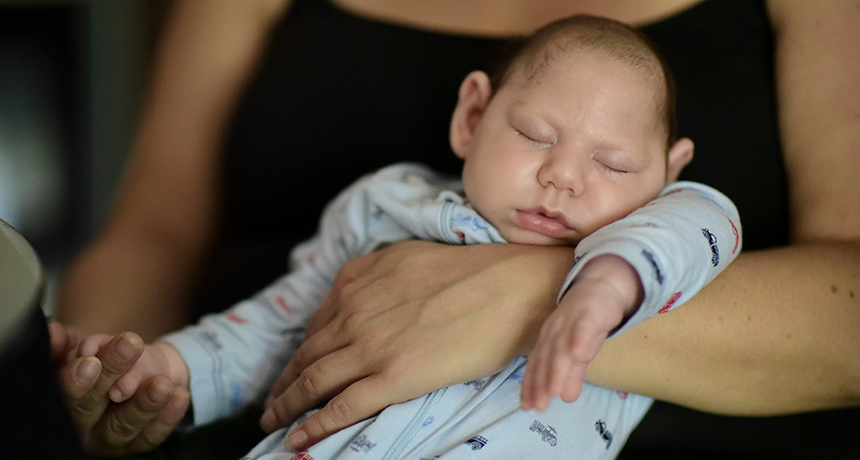 Babies exposed to a Zika infection while in the womb are not out of the woods even if they look healthy at birth.
Nearly 1 in 10 of 1,450 babies examined developed neurological or developmental problems, such as seizures, hearing loss, impaired vision or difficulty crawling, a study from the U.S. Centers for Disease Control and Prevention finds. It's the first tally of the health of children at least 1 year old who were born in Puerto Rico and other U.S. territories and exposed to Zika in utero.
Science News headlines, in your inbox
Headlines and summaries of the latest Science News articles, delivered to your email inbox every Thursday.
Thank you for signing up!
There was a problem signing you up.
Overall, 14 percent of children exposed to Zika in the womb — about 1 in 7 — were harmed in some way by the virus, the researchers report online August 7 in Morbidity and Mortality Weekly Report. These babies were either born with a birth defect such as microcephaly — a condition in which a baby's head is significantly smaller than it should be — or developed neurological symptoms that may be related to Zika, or both.
"Congenital Zika virus infection is quite serious, even beyond just the microcephaly," says Peter Hotez, a pediatrician and microbiologist at Baylor College of Medicine in Houston, who was not involved in the report. "We're still getting our arms around the full neurologic spectrum of illness" that is related to Zika.
The report also found that 6 percent of babies in the study had at least one birth defect caused by the virus, such as defects of the eye or brain or microcephaly (SN: 10/29/16, p. 14).
That's fairly consistent with what's seen in other countries hit by the Zika virus, Margaret Honein, director of CDC's Division of Congenital and Developmental Disorders, said at a news conference. While a 2016 study suggested higher rates of birth defects in Brazil, "we think there isn't a geographic difference" but more of a difference in how Zika-related birth defects are defined, she said.
Subscribe to Science News
Get great science journalism, from the most trusted source, delivered to your doorstep.
The data come from the U.S. Zika Pregnancy and Infant Registry, set up to monitor pregnant women with Zika virus infection and the health of their babies. The study focuses on those pregnancies reported from Puerto Rico, the U.S. Virgin Islands, American Samoa, the Federated States of Micronesia and the Marshall Islands. The children, all at least a year old, had received some follow-up medical care, such as brain imaging, hearing tests, eye exams or developmental screening. A report on pregnancies from the mainland United States is expected later this year.
Zika ravaged Brazil, Colombia and other countries of the Americas in 2015 and 2016. By 2017, the spread of the virus had slowed to a crawl (SN: 11/11/17, p. 12). But experts expect to see future outbreaks (SN: 12/23/17, p. 30).
"What makes this report unique is that we're looking at the health of these babies beyond what was observed at birth," Honein said. "This is really providing us with the first clues about how common some of these neurodevelopmental disabilities might be."
Researchers suspect that health issues will continue to emerge for children exposed to Zika in the womb as they grow older. "This is why it is so absolutely critical that these babies receive care to identify issues as soon as possible," Honein said, and that children continue to be monitored over time.