Vaccinating pregnant women protects newborns from whooping cough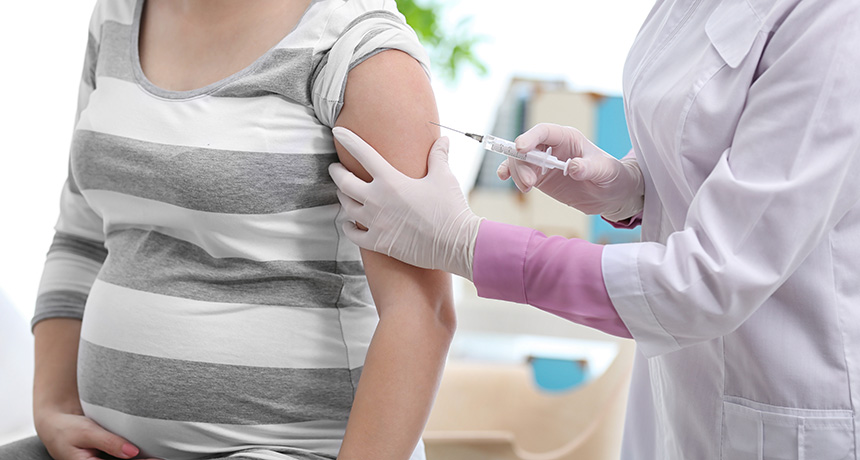 When I was pregnant, my pronoun shifted automatically. My "I" turned into "we," as in, "What are we going to eat for dinner?" and, "Should we sit in that hot tub?" I thought about that shift to the majestic plural as we got our Tdap shot in our third trimester.

The Tdap vaccine protects against tetanus, diphtheria and pertussis, or whooping cough. Doctors recommend that women receive a dose with each pregnancy because the diseases can be particularly dangerous for young babies. But good, hard evidence for the benefits of vaccinating women while pregnant instead of shortly after giving birth has been lacking. A new study of nearly 150,000 newborns fills that gap for whooping cough.
Researchers at the Kaiser Permanente Vaccine Study Center in Oakland, Calif., studied the medical records of mothers who gave birth to babies between 2010 and 2015. Overall, about 46 percent of the mothers received a Tdap vaccine at least 8 days before giving birth.
Seventeen of the 150,000 babies got whooping cough by the time they were 2 months old. Of these 17 babies, only one had been born to a mother who had received the Tdap vaccine during her pregnancy. And this baby, the researchers note, had a mild case of whooping cough and wasn't admitted to the hospital.
The maternal protection against whooping cough stuck around beyond 2 months, the researchers found. Though babies got their own vaccines in their first year of life, those babies who got their mothers' antibodies during pregnancy were less likely to get whooping cough before their first birthdays than babies whose mothers had not been vaccinated while pregnant.
Babies whose mothers were vaccinated after giving birth didn't get similar protection. The researchers found no evidence that postpartum Tdap vaccinations for mothers prevented whooping cough in babies. "Our results demonstrate the substantial benefit of vaccinating during pregnancy rather than waiting until after birth," pediatrician and vaccine researcher Nicola Klein and colleagues wrote online April 3 in Pediatrics.
Since 2013, doctors have recommended that women get Tdap shots during every pregnancy between weeks 27 and 36 of pregnancy, a window that's thought to be prime for antibody sharing. Babies usually get their first vaccine against whooping cough at 2 months of age. The new study shows how antibodies received in utero from mom can shepherd babies through this vulnerable unvaccinated period.
These days, whooping cough is making a comeback. That reemergence comes in part from a switch in the 1990s to a vaccine that comes with fewer side effects but is less effective. Changes in the bacterial culprit itself and lower vaccination rates also contribute to whooping cough's reemergence. One of the best things mothers-to-be can do to keep their newborns healthy, the study shows, is to themselves deliver those antibodies to their babies by getting vaccinated during pregnancy.