On that 'earmark' for my favorite science center
I realize that this is a judgment call, but I'm miffed at the example of egregious earmarks that John McCain chose to single out during the October 7 town-hall presidential debate: "$3 million for an overhead projector at a planetarium in Chicago" — one that he said Sen. Obama had "voted for.'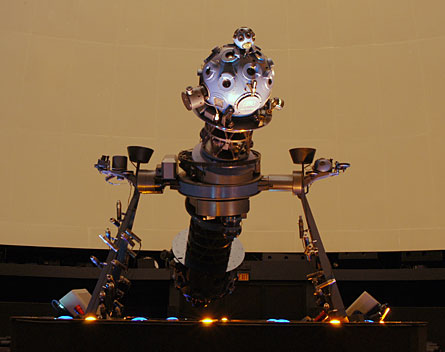 He made it sound like a silly boondoggle.
And it would have been if it were indeed for an overhead projector — those things geeky academics scribble formulas and arrows onto during lectures in dark, windowless classrooms. To cost $3 million, it must be platinum-plated, right?
Science News headlines, in your inbox
Headlines and summaries of the latest Science News articles, delivered to your email inbox every Thursday.
Thank you for signing up!
There was a problem signing you up.
In fact, this earmark had been a request (and not by Obama) to purchase a new planetarium — the device that projects stars, planets, and more onto the domed ceiling of educational theaters. It was to replace the heart and soul of the 78-year-old Adler Planetarium, home to the first planetarium in America. A renowned lakefront institution, this public museum is still operated in a building owned by the city's Park District.
In other words, money had been requested for an educational tool — a precision-electro-optics-laden mechanical system used to teach astronomy to the public (mostly endless classes of school children) in the nation's third largest city (pop. 2.8 million). The money wasn't for a mindless upgrade, like buying a new car every three years whether you need it or not. Adler's German-engineered Zeiss planetarium is approaching 40, and its manufacturer no longer supports nor services this instrument.
Which can be a problem, since these babies are finicky. I know that all too well from the time I worked at Adler and watched the museum's crack mechanics rush to tweak and service minor malfunctions between public planetarium shows that took place every few hours — every day of the week.
In the early 1970s, I was an astronomy major at nearby Northwestern — until I finally convinced the university's very picky Medill School of Journalism to let me transfer in. It was this unusual background in both journalism and astronomy that apparently persuaded Adler's director (one of six staff astronomers) to take a gamble on me. He offered this college junior her first (albeit part-time) journalism job  — and in her dream environment, a storied, world-class museum and learning center devoted to understanding the cosmos.
Subscribe to Science News
Get great science journalism, from the most trusted source, delivered to your doorstep.
In putting together what amounted to a colorful 50-page astronomy book, a guide to the museum's antique instruments and educational exhibits, I worked intimately with all of the astronomers, most of whom had appointments at Northwestern or the University of Chicago. It was Adler's astronomers who first introduced me to Science News. It was at Adler that I got to touch its ancient scientific instruments (one might think of this place as the Smithsonian of astronomy). And it was at Adler that I sat in on dozens of shows in the Sky Theater — public astronomy lessons (some of whose scripts I had edited), which literally came to light via celestial imagery projected by is majestic Zeiss planetarium.
Let me emphasize: The museum's mission has always been to teach. It doesn't make a profit. It serves the public. And legions of children depart its architecturally arresting Art Deco facility understanding that astronomy has nothing to do with horoscopes, that cosmology has nothing to do with hair styling and manicures (i.e. cosmetology). They encounter the science of black holes and quasars, they watch as projections depict the movement of celestial bodies over time, they absorb history lessons that mesmerize normally fidgety pre-teens.
I would argue that the money would have been well spent. Moreover, Adler president Paul Knappenberger noted in today's Chicago Tribune that planetariums in New York and Los Angeles received federal funding in recent years to replace their aging Zeiss systems. 

Although Obama  — and other members of the Illinois congressional delegation  — supported a similar earmark for Adler, it was never attached to a bill, notes Sarah Beck, a spokesperson for the museum. So Adler never got its requested funds and, strictly speaking, Obama can't be blamed for wasting money on that "projector."
But I'm curious: Was McCain's lambasting of this proposed earmark just his attempt to reign in all nonessential spending in this time of economic hardship? Or was he just looking for a chuckle by pointing to what seemed ridiculous — like those Defense Department projects that yielded a $200,000 hammer? Or was he indirectly arguing that major investments in public education — like Adler's planetarium or a Smithsonian research lab — are, by their very nature, an inappropriate use of federal funds?