Crocs take a bite out of claims of ancient stone-tool use
Scars left on bones could have come from hungry reptiles instead of Stone Age butchery, researchers say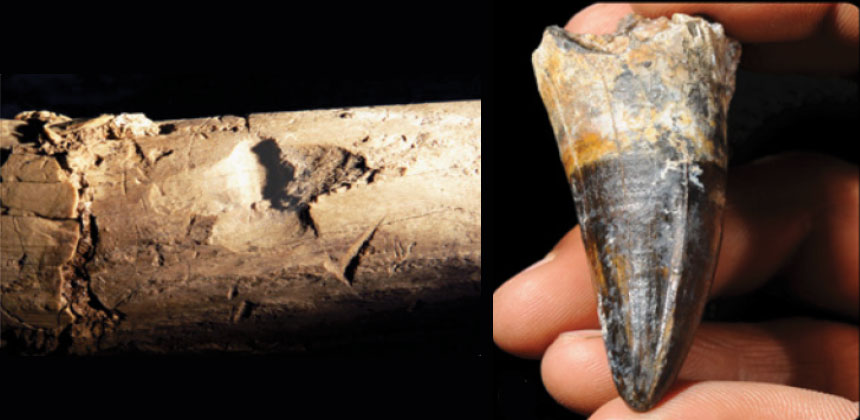 Recent reports of African and North American animal fossils bearing stone-tool marks from being butchered a remarkably long time ago may be a crock. Make that a croc.
Crocodile bites damage animal bones in virtually the same ways that stone tools do, say paleoanthropologist Yonatan Sahle of the University of Tübingen in Germany and his colleagues. Animal bones allegedly cut up for meat around 3.4 million years ago in East Africa (SN: 9/11/10, p. 8) and around 130,000 years ago in what's now California (SN: 5/27/17, p. 7) come from lakeside and coastal areas. Those are places where crocodiles could have wreaked damage now mistaken for butchery, the scientists report online the week of November 6 in the Proceedings of the National Academy of Sciences.
Larger samples of animal fossils, including complete bones from various parts of the body, are needed to begin to tease apart the types of damage caused by stone tools, crocodile bites and trampling of bones by living animals, Sahle's team concludes. "More experimental work on bone damage caused by big, hungry crocs is also critical," says coauthor Tim White, a paleoanthropologist at the University of California, Berkeley.
In a field where researchers reap big rewards for publishing media-grabbing results in high-profile journals, such evidence could rein in temptations to over-interpret results, says archaeologist David Braun of George Washington University in Washington, D.C., who did not participate in the new study or the two earlier ones. "There's a push to publish extraordinary findings, but evolutionary researchers always have to weigh what's interesting versus what's correct."
Authors of the ancient butchery papers agree that bone marks made by crocodiles deserve closer study and careful comparison with proposed stone-tool marks. But the researchers stand their ground on their original conclusions.
Microscopic investigations in the 1980s led some researchers to conclude that carnivores such as hyenas leave U-shaped marks on bones. In contrast, they argued, stone tools leave V-shaped incisions with internal ridges. And hammering stones create signature pits and striations.
Subscribe to Science News
Get great science journalism, from the most trusted source, delivered to your doorstep.
Sahle's group expanded on research previously conducted by paleoanthropologist Jackson Njau of Indiana University Bloomington. In his 2006 doctoral dissertation, Njau reported that bone damage produced by feeding crocodiles looks much like stone-tool incisions and pits, with a few distinctive twists such as deep scratches. Njau retrieved and studied cow and goat bones from carcasses that had been eaten by crocodiles housed at two animal farms in Tanzania.
In the new study, the scientists used Njau's findings to reassess marks on fossils previously excavated in Ethiopia and dating to around 4.2 million, 3.4 million and 2.5 million years ago. Damage to these fossils has generally been attributed to butchery with stone tools.
Incisions and pits on arm bones from an ancient hominid, Australopithecus anamensis, and similar marks on a horse's leg bone likely resulted from crocodile bites and not stone-tool use, as initially suspected, the investigators say. If stone tools had indeed damaged the A. anamensis remains, that would raise the possibility of cannibalism — a difficult behavior to confirm with fossils. Tellingly, Sahle's team argues, these bones come from what were once waterside areas. Some were found in the same sediment layer as crocodile remains. Marks on these bones include deep scratches consistent with crocodile bites.
The horse fossil comes from a spot along an ancient lakeshore where no stone tools have been found, a further clue in favor of damage from croc bites.
Jagged pits, incisions and other marks scar a leg fragment and lower jaw from an ancient hoofed animal. But microscopic analyses could not definitively attribute the damage to stone tools or crocodile bites.
In light of these findings, the ancient California and 3.4-million-year-old East Africa bones should also be reexamined with the possibility of croc damage in mind, White says. For now, the earliest confirmed stone-tool marks occur on animal bones from two East African sites dating to around 2.5 million years ago (SN: 4/17/04, p. 254), he adds.
The range of crocodile marks described in the new study doesn't look "especially like" damage to the 130,000-year-old mastodon bones on California's coast, says paleontologist Daniel Fisher of the University of Michigan in Ann Arbor, a coauthor of the ancient California bones paper. No fossil evidence indicates crocodiles lived there at that time, he adds. Several lines of evidence, including pounding marks and damage near joints, point to stone-tool use at the West Coast site, says archaeologist Richard Fullagar of the University of Wollongong in Australia, also a coauthor of the mastodon paper.
Further studies of the 3.4-million-year-old African bones previously reported as probable examples of animal butchery will statistically compare the probability of various causes for particular marks, including crocodile bites, says Shannon McPherron, the lead author of the earlier study and an archaeologist at the Max Planck Institute for Evolutionary Anthropology in Leipzig, Germany. In that way, researchers can assess whether any one cause stands out as the strongest candidate.