Endurance training leaves no memory in muscles
Genetic study finds no persistent changes in exercisers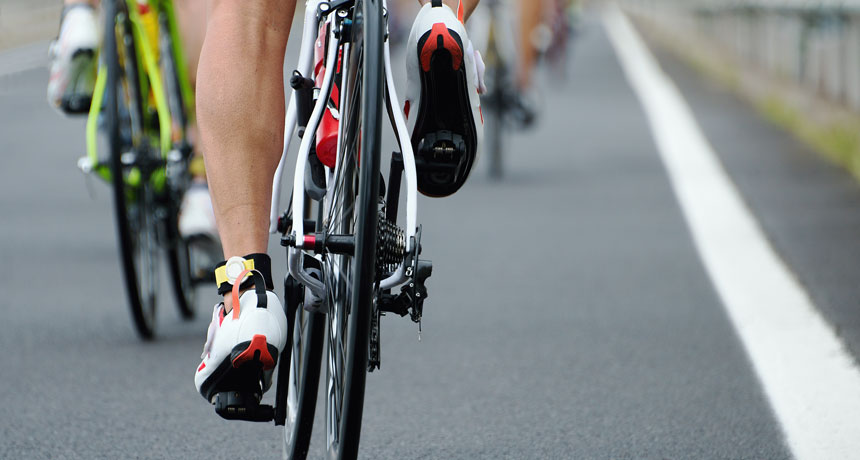 Use it or lose it, triathletes.
Muscles don't have long-term memory for exercises like running, biking and swimming, a new study suggests. The old adage that once you've been in shape, it's easier to get fit again could be a myth, at least for endurance athletes, researchers in Sweden report September 22 in PLOS Genetics.
"We really challenged the statement that your muscles can remember previous training," says Maléne Lindholm of the Karolinska Institute in Stockholm. But even if muscles forget endurance exercise, the researchers say, other parts of the body may remember, and that could make retraining easier for people who've been in shape before.
Science News headlines, in your inbox
Headlines and summaries of the latest Science News articles, delivered to your email inbox every Thursday.
Thank you for signing up!
There was a problem signing you up.
Endurance training is amazingly good for the body. Weak muscle contractions, sustained over a long period of time — as in during a bike ride — change proteins, mainly ones involved in metabolism. This translates into more energy-efficient muscle that can help stave off illnesses like diabetes, cardiovascular disease and some cancers. The question is, how long do those improvements last?
Previous work in mice has shown that muscles "remember" strength training (SN: 9/11/10, p. 15). But rather than making muscles more efficient, strength-training moves like squats and push-ups make muscles bigger and stronger. The muscles bulk up as they develop more nuclei. More nuclei lead to more production of proteins that build muscle fibers. Cells keep their extra nuclei even after regular exercise stops, to make protein easily once strength training restarts, says physiologist Kristian Gundersen at the University of Oslo in Norway. Since endurance training has a different effect on muscles, scientists weren't sure if the cells would remember it or not.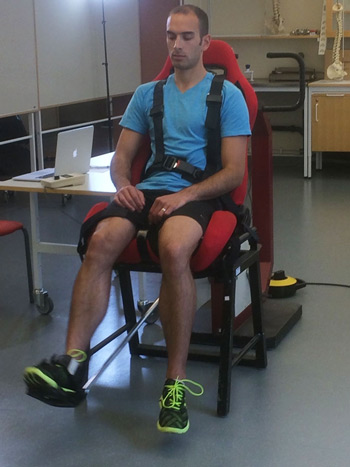 To answer that question, Lindholm's team ran volunteers through a 15-month endurance training experiment. In the first three months, 23 volunteers trained four times a week, kicking one leg 60 times per minute for 45 minutes. Volunteers rested their other leg. Lindholm's team took muscle biopsies before and after the three-month period to see how gene activity changed with training. Specifically, the scientists looked for changes in the number of mRNAs (the blueprints for proteins) that each gene was making. Genes associated with energy production showed the greatest degree of change in activity with training.
At a follow-up, after participants had stopped training for nine months, scientists again biopsied muscle from the thighs of 12 volunteers, but didn't find any major differences in patterns of gene activity between the previously trained legs and the untrained legs. "The training effects were presumed to have been lost," says Lindholm. After another three-month bout of training, this time in both legs, the researchers saw no differences between the previously trained and untrained legs.
Subscribe to Science News
Get great science journalism, from the most trusted source, delivered to your doorstep.
While this study didn't find muscle memory for endurance — most existing evidence is anecdotal — it still might be easier for former athletes to get triathalon-ready, researchers say. The new result has "no bearing on the possible memory in other organ systems," Gundersen says. The heart and cardiovascular system could remember and more easily regain previous fitness levels, for example, he says.
Even within muscle tissue, immune cells or stem cells could also have some memory not found in this study, says molecular exercise physiologist Monica Hubal of George Washington University in Washington, D.C. Lindholm adds that well-trained connections between nerves and muscles could also help lapsed athletes get in shape faster than people who have never exercised before. "They know how to exercise, how it's supposed to feel," Lindholm says. "Your brain knows exactly how to activate your muscles, you don't forget how to do that."