Fighting cholesterol with saturated fat?
A saturated fat from beef, linked to a soy-derived compound, makes a promising cholesterol-lowering compound, according to a nutrition scientist at the University of Nebraska.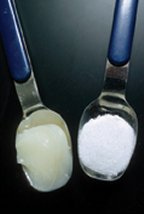 The soy compound, a sterol ester, is one of two plant-based compounds already used in margarines that prevent the body from absorbing cholesterol (SN: 5/30/98, p. 348). By chemically linking the ester to a saturated fat from beef tallow, Timothy P. Carr has synthesized a compound with roughly seven times the cholesterol-lowering potency of the ester alone.
In 4-week experiments that are as-yet unpublished, Carr fed groups of hamsters the ester-fat compound in amounts ranging from the equivalent of what people consume in ester-rich margarines to many times that amount. "At all doses we see a much greater cholesterol-lowering ability from our compound than from the commercially available sterol ester," says Carr.
The "magic ingredient," Carr says, is the beef fat's stearic acid, a saturated fat found in a host of plant and animal tissues. Work by other researchers over the years has shown that stearic acid has an uncanny capacity to lower cholesterol.
Unlike gooey sterol-ester, the new fat-ester compound is a smooth, tasteless, and heat-stable powder. It could be used in baked goods, dairy products, or even frozen desserts, Carr says. However, he adds, "we envision a soft gel that people might take in the morning with their blood-pressure medicine."
Carr is now comparing how well the new compounds and statin drugs lower cholesterol in lab animals. Tests in people could follow soon, he says.