Seismic activity that rattled the Indonesian region early this week, including a quake that measured a whopping magnitude 8.7, was triggered by December's massive, tsunami-spawning earthquake, scientists suggest.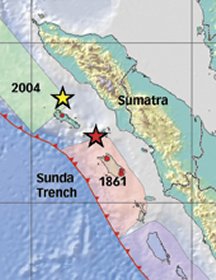 As of press time, the largest of this week's quakes struck the region late Monday night Sumatran time. U.S. Geological Survey scientists place that temblor's epicenter just southeast of Simeulue, an island about 150 kilometers west of Sumatra, and near the epicenter of the Dec. 26, 2004, quake (SN: 1/8/05, p. 19: Tsunami Disaster: Scientists model the big quake and its consequences). In the 24 hours following Monday's temblor, at least 20 aftershocks rocked the region. Although the shocks produced no damaging tsunamis, hundreds of deaths, mainly in collapsed buildings, have been reported on islands in the region.
Although this week's seismic activity was near the epicenter of December's quake, the new rumblings don't appear to be aftershocks of that temblor. This week's quakes happened along a different fault than the one responsible for the tsunamis. Both faults, however, are subduction zones, or regions where one of Earth's tectonic plates slips beneath the edge of another. The Dec. 26 quake occurred along the lengthy interface between the India and Burma plates, whereas the new activity centers on the northwestern corner of the Sunda trench, the boundary between the Australia and Sunda plates.
In recent weeks, scientists speculated that the redistribution of seismic stress in Earth's crust during December's quake could trigger quakes along other faults in the region. In the March 31 Nature—in a report submitted, reviewed, and edited before Monday's temblor—seismologists Seth Stein and Emile A. Okal of Northwestern University in Evanston, Ill., suggest the near-term possibility of a magnitude-8.0-or-greater quake somewhere along the Sunda trench.
A separate mathematical analysis in the March 17 Nature appears to have hit the seismic nail on the head. Computer models run by Sandy Steacy and her colleagues of the University of Ulster in Coleraine, Northern Ireland, suggested that December's quake had boosted stress significantly along the northwesternmost portion of the Sunda trench, the precise region in which this week's temblors centered. A large, tsunami-generating quake struck the same stretch of the Sunda trench in 1861, notes Steacy.
In other areas of the world, massive subduction-zone earthquakes have been followed quickly by other large temblors. For example, five of the seven major quakes in the past 1,500 years along a subduction zone southeast of Japan were followed by large quakes within 5 years. Three of those follow-up shocks came within 1 year of their precursors, says Steacy.