Within the next two weeks, the vast majority of radioactive-imaging medical tests could be delayed or replaced by less desirable procedures. The reason: temporary shutdowns of Canadian and Dutch reactors that together normally provide some 70 percent of the world's supplies of the isotope molybdenum-99 and at least 80 percent of North American supplies.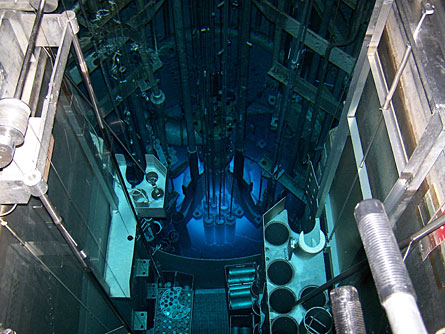 Each week, U.S. doctors prescribe some 300,000 medical-imaging tests that rely on technetium-99m, a radioactive isotope produced from molybdenum-99. About half of those tests measure heart function. Some map the spread of cancer. Others gauge the toxicity of cancer drugs on the circulatory system.
Neither the feedstock isotope nor the imaging isotope can be stockpiled because of their short radioactive half-lives (66 hours for molybdenum-99 and six hours for technetium-99m). New sources of molybdenum must be supplied to hospitals and imaging centers at least every two weeks.
"Right now, we're managing [with the diminished supply], but just barely," says Michael Graham, a nuclear medicine physician at the University of Iowa in Iowa City and president of the Society of Nuclear Medicine. "I'm concerned things are going to get worse by the end of this month."
Indeed, "it's predicted that in a week or 10 days, [U.S. supplies] could fall to perhaps 15 to 20 percent of our demand," says Jeffrey Norenberg, director of radiopharmaceutical sciences at the University of New Mexico in Albuquerque and executive director of the National Association of Nuclear Pharmacies.

Five foreign reactors produce the vast majority of molybdenum-99. With an average age of 47 years — compared with an expected lifetime of only 35 years — those feedstock-producing reactors are all living on borrowed time. And they are subject to frequent outages for repairs.
The first reactor to go down this year was Canada's 52-year-old National Research Universal reactor near Chalk River, in Ontario. On May 15, a small leak was identified in the reactor's containment vessel.
That problem, initially expected to take perhaps a month to fix, is proving more difficult. An August 12 update by Atomic Energy of Canada Limited, which runs the facility, reports at least "nine sites likely requiring repair" and corrosion-fostered wall thinning and pitting of the reactor vessel. Currently, AECL now projects the reactor won't return to service until at least the first quarter of 2010.
Almost two months to the day after AECL's reactor went down, the 47-year-old Dutch High Flux Reactor in Petten began a month's scheduled maintenance. That reactor should be back in service by the end of August. But delayed repairs of corrosion — which caused a temporary shutdown of the reactor last year — are slated to begin in February and last six months.
U.S. sources of molybdenum-99 have not existed since the mid-1980s. Concerned about the potential for catastrophic supply disruptions of this medical isotope, the Obama administration earlier this year "started plans to implement what we're calling a long-term solution," says Jean Cottam in the White House Office of Science & Technology Policy. "We decided it was time to move forward, as quickly as we could, to establish domestic production capabilities."
Within two weeks, she says, her office at OSTP also could have a blueprint for domestic supply strategies to implement during periods of crisis, such as next spring. That could prove a "much worse situation [than now]," Cottam says, "because Petten will be down for much longer."

UPDATE: House passes medical isotopes bill