Poor diet in pregnancy, poor heart health for infants
Baboon study links low-calorie intake to long-term risks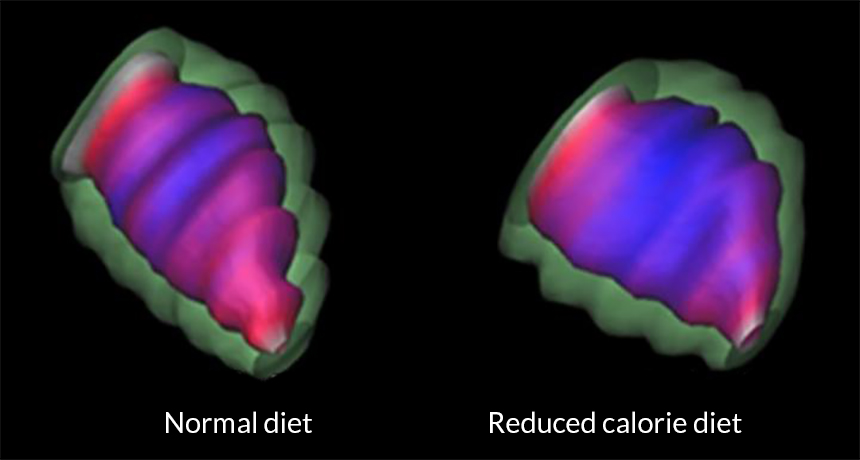 Mothers who don't eat enough during pregnancy could give birth to babies with long-lasting heart problems. The results from a new study in primates add to accumulating evidence that a mother's nutrition has more bearing on her child's health than previously thought.
"We pass more biological milestones during development than we will ever pass again in our entire lives," says Peter Nathanielsz, coauthor of the study published November 6 in the Journal of Physiology. And during those critical nine months, calorie intake at the extremes — too many or too few — appears to have a lifelong influence on newborn weight, future metabolism and chronic health problems (SN: 1/23/16, p. 22).
One landmark epidemiological investigation found that people born in the Dutch Hunger Winter during World War II suffered from an elevated risk of heart disease and other health concerns, with some risks even affecting two generations. But studies of human populations are complicated. It's hard to account for the role of stress, behavior or environmental exposures. So Nathanielsz, of the University of Wyoming in Laramie, and colleagues from the University of Texas Health Science Center at San Antonio studied baboons, close genetic relatives to humans.
Sixteen pregnant baboons were fed their normal amount of chow, while 16 others received 30 percent less during pregnancy, a reduction researchers characterize as "moderate." All other living conditions were the same. The researchers then compared offspring of the well-fed mothers with the offspring of undernourished mothers.
Infants of the underfed mothers were born small but nonetheless caught up in body weight to the offspring of the well-fed mothers by young adulthood. However, those whose mothers were underfed had more fibrous, abnormally shaped heart muscle, the researchers report. A normal heart is roughly an upside-down pyramid, but underfed offspring had more rounded and less muscular hearts. Evidence showed that these less-muscled hearts were not as efficient at pumping blood, with an average output about 20 percent lower.
Offspring undernourished in the womb also had hearts that appeared to age faster. By age five, the human equivalent of almost 25, many of their heart functions more closely resembled those of hearts of primates about three times as old.
Such experiments can show cause and effect — something that human studies can't do, says Susan Ozanne, a developmental endocrinologist at the University of Cambridge. As a result, they provide strong evidence about the effects of maternal nutrition. "What this shows us is that certainly maternal diet has an effect on a child's cardiac health long-term," she says. Studies in rodents have produced similar findings, but "when you validate those in multiple species, it shows you you're looking at a fundamentally conserved mechanism."
Subscribe to Science News
Get great science journalism, from the most trusted source, delivered to your doorstep.
The next step, she says, is to learn whether diet and exercise after birth can make up for poor nutrition during development. Doctors also don't know whether there is a window of time during childhood for intervention, or a longer period to counteract any effects, she says.
Much attention on maternal nutrition has focused on the obesity epidemic, Nathanielsz says, but undernutrition remains a public health challenge throughout the world, even in developed countries. The U.S. Department of Agriculture estimates that approximately 13 percent of American households in 2015 reported food insecurity, or uncertainty about having enough money for food. "The number of people with food insecurity is very high," Nathanielsz says. "It would be sad if we discounted this problem."