Rand McNally, look out. NASA scientists and Defense Department mapmakers are assembling billions of radar measurements made from the space shuttle Endeavour to produce what they say will be the world's best topographic map.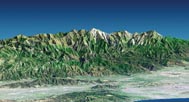 During a 12-day mission in February 2000, instruments on board Endeavour measured the elevation of land at almost a trillion locations between the latitudes of 60N and 56S. That area–a swath that stretches from the latitude of Seward, Alaska, to points south of South America's Cape Horn–represents about 80 percent of Earth's landmass and is home to approximately 95 percent of the world's population.
On Jan. 22, NASA released the data for the continental United States. Scientists will complete their analysis of worldwide measurements later this year. For areas outside the United States, the full set of data–an enormous constellation of topographic points about 30 horizontal meters apart–will be available only to the Defense Department and to scientists with certain security clearances. Other researchers and the public will be able to obtain only data points spaced about 90 m apart.
Nevertheless, for many areas of the globe, the maps with 90-m spacing will be better than any charts in use today, says Michael Kobrick, a scientist on the project at NASA's Jet Propulsion Laboratory in Pasadena, Calif.