Sun Struck: Data suggest skin cancer epidemic looms
Young adults are experiencing a sharp increase in the incidence of non-melanoma skin cancers, a new study finds. These readily treatable tumors had been considered mainly a problem for people over age 60.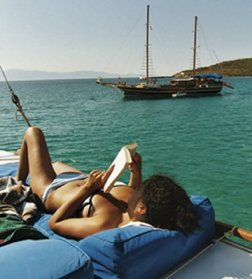 The youthful trend "is more than surprising. It's alarming," says study leader Leslie J. Christenson, a dermatologic surgeon at the Mayo Clinic in Rochester, Minn. Her study focused on basal cell and squamous cell carcinomas, which are less dangerous than melanoma but, if untreated, can be disfiguring or even lethal.
Once someone develops a non-melanoma skin tumor, says Christenson, there's a 50 percent chance that another tumor will show up within 2 to 3 years. "Among people who get a second, 75 percent will go on to get a third," she adds. The study's finding of a surge in basal cell and squamous cell cancers among people in their 20s and 30s could herald "a potentially exponential increase in the cancers' incidence over time, as these people age," Christenson told Science News.
Her team analyzed data collected as part of a local health study. These data included medical information on more than 99 percent of the population in the Minnesota county where the clinic is located.
Christenson's team tallied reports of non-melanoma skin cancers in people under 40 between 1976 and 2003. In the Aug. 10 Journal of the American Medical Association, the researchers report that the incidence of basal cell skin cancers roughly tripled during that period among adult women, to more than 30 cases per 100,000 individuals. Men experienced only a slight increase, to 27 cases per 100,000.
The incidence of squamous cell carcinoma was consistently lower than that but has quadrupled since the mid-1970s—to 4 cases per 100,000 people.
According to the Schaumburg, Ill.–based American Academy of Dermatology, non-melanoma skin cancers will claim the lives of some 2,800 people in the United States this year.
Subscribe to Science News
Get great science journalism, from the most trusted source, delivered to your doorstep.
Over time, improvements in screening can increase the number of cancers identified, but that effect doesn't appear to explain the new data, Christenson's team says. Better screening tends to turn up cancer in an earlier stage, but no such shift to earlier skin cancers emerged in the Minnesota data.
In contrast, a separate team has reported that a sharp rise in melanoma cases among Medicare beneficiaries between 1986 and 2001 was "confined to early stage cancer." Researchers at Dartmouth Medical School in White River Junction, Vt., correlated a more than doubling in melanoma cases to an identical rise in screening for the disease and so argue against any rise in melanoma incidence. Their report appears in the Sept. 3 British Medical Journal.
Overexposure to ultraviolet light is the leading risk factor for skin cancers, and 80 to 90 percent of non-melanoma skin cancers occur on typically sun-exposed sites, such as the head or neck. In the new study by Christenson's team, only 60 percent of non-melanoma skin cancers occurred there, with most of the others showing up on the torso. This suggests full-body tanning as the source, Christensen says.
"I'm glad somebody documented this," says John A. Carucci, head of dermatologic surgery at Cornell University's Weill Medical College in New York City. He has noticed an increase in non-melanoma skin cancer in young adults and on the torso in his own practice. He concludes, "People are tanning more, and this [skin cancer], unfortunately, is the price people are paying."
---