Year in review: 'Three-parent baby' technique raises hope and concern
Safety and ethical questions surround controversial mitochondrial replacement therapy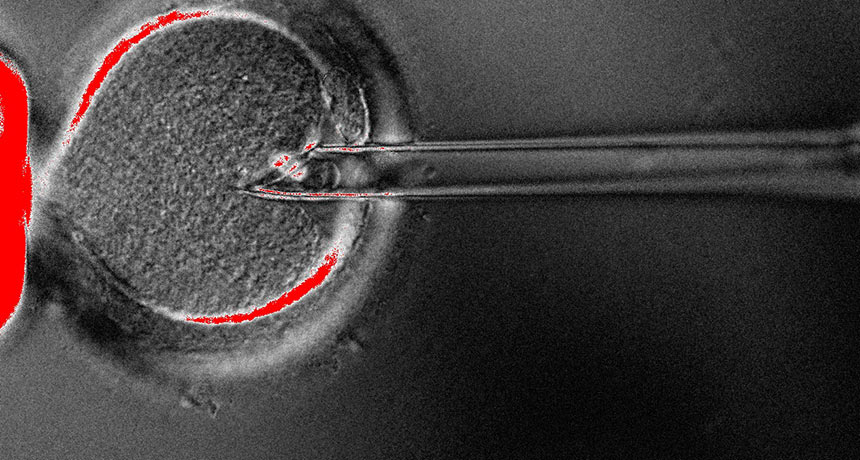 A "three-parent baby" was born in April, the world's first reported birth from a controversial technique designed to prevent mitochondrial diseases from passing from mother to child.
"As far as we can tell, the baby is normal and free of disease," says Andrew R. La Barbera, chief scientific officer of the American Society for Reproductive Medicine. "This demonstrates that, in point of fact, the procedure works."
The baby boy carries DNA not only from his mother and father but also from an egg donor, raising both safety and ethical concerns. In particular, people worry that alterations of the genetic makeup of future generations won't stop with preventing diseases but could lead to genetically enhanced "designer babies."
Opponents, such as Marcy Darnovsky, executive director of the Center for Genetics and Society in Berkeley, Calif., are also worried that the technique hasn't been fully tested. "We wish the baby and family well, and hope the baby stays healthy," Darnovsky says. "But I have a lot of concerns about this child and about future efforts to use these techniques before they've been shown to be safe."
About one in 4,000 children are born with dysfunctional mitochondria. These energy-generating organelles are inherited from the mother and have their own DNA. Mutations in some of the 37 mitochondrial genes can lead to fatal diseases, often affecting energy-hungry organs such as the brain and muscles. Because there is no cure or effective treatment for many mitochondrial diseases, the recent birth has been heralded as a sign of new hope for affected families.
Even if women don't have mitochondrial diseases themselves, they can pass the diseases to their children if their egg cells contain large numbers of defective mitochondria. The mother of the recent three-parent baby had previously had two children who died of Leigh syndrome, a mitochondrial disease that affects the nervous system and eventually prevents a person from breathing.
Fertility doctor John Zhang of the New Hope Fertility Center in New York City and colleagues performed what's called a spindle transfer to put all the chromosomes from the mother's egg into a donor egg that contained healthy mitochondria but had been emptied of its chromosomes (SN Online: 10/18/16). The egg was then fertilized with sperm and implanted in the mother.
---
Subscribe to Science News
Get great science journalism, from the most trusted source, delivered to your doorstep.
Cell swap
A baby boy born in April has DNA from three people. To produce the embryo, researchers transferred the chromosomes from the mother's egg into a donor egg with healthy mitochondria. The technique is called "spindle transfer" for the cellular structure that segregates the chromosomes.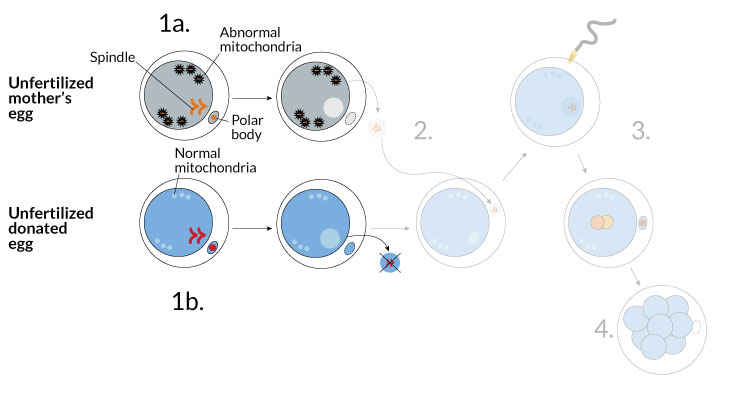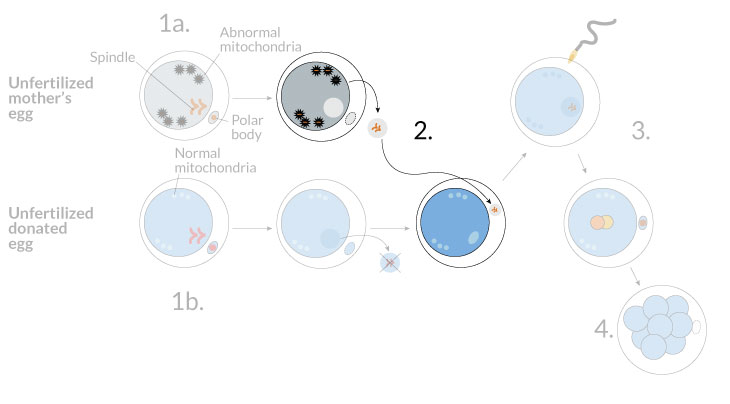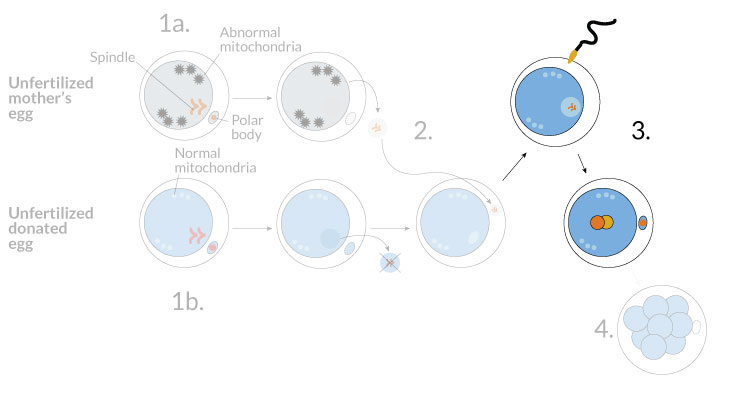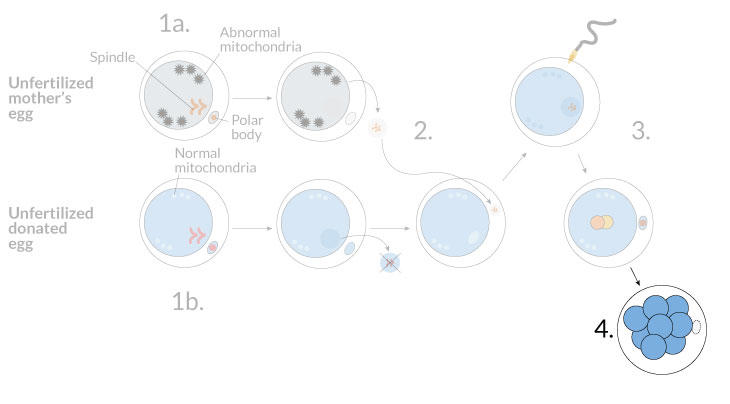 Source: Third scientific review of the safety and efficacy of methods to avoid mitochondrial disease through assisted conception, Human Fertilisation and Embryology Authority, June 2014
---
"It's very important that they follow up," to monitor the child's long-term health, says Shoukhrat Mitalipov, a mitochondrial biologist at Oregon Health & Science University in Portland. Mitalipov pioneered the spindle transfer technique in monkeys (SN: 9/26/09, p. 8). Even a small number of defective mitochondria carried over from the mother's egg may replicate and cause problems later on, he and other scientists have found (SN: 6/25/16, p. 8; SN Online: 11/30/16).
Zhang reported that just 1.6 percent of the baby boy's mitochondrial DNA came from his mother (SN Online: 10/19/16). Mitalipov notes, however, that doctors can't know from sampling a few types of tissue whether other tissues have different levels of mitochondrial carryover. What's more, levels of mutant mitochondria may change as the child grows.
Mitalipov supports research on the technique but says it should be done in carefully controlled clinical trials. Results of a mouse study published in July suggest that mismatches between the parents' nuclear DNA and the donor mitochondrial DNA could affect metabolism and aging (SN: 8/6/16, p. 8). Those effects could show up years or decades after birth.
The baby boy born in April is technically not the first three-parent baby. At least two children born in the late 1990s carry mitochondrial DNA from a donor. Those two and 15 other children were born to mothers who had a small amount of cytoplasm — the gelatinous fluid that fills cells and holds mitochondria — from a donor egg injected into their own eggs in an effort to improve results of in vitro fertilization. No major health problems have been reported, but the studies were abandoned because of ethical concerns, lack of funding and the difficulties in obtaining newly required permits.
La Barbera disputes the term "three-parent baby" entirely. "A person's essence as a human being comes from their nuclear genetic material, not their mitochondrial genetic material," La Barbera says. Children who are born after mitochondrial transfer procedures have only two parents, he contends.
Zhang drew fire for going to Mexico to perform the procedure. Congress currently bars the U.S. Food and Drug Administration from reviewing applications to make heritable changes in human embryos, which includes the spindle transfer technique. A panel of experts said in February that it is ethical to make three-parent baby boys (SN Online: 2/3/16), a provision that would prevent future generations from inheriting the donor mitochondria. Because mothers pass mitochondria on to their babies but fathers usually do not, technically baby boys born through this technique don't carry an inheritable modification in their DNA.
Clinics in the United Kingdom can legally perform the procedures, but none have been reported yet. A panel of experts there recommended November 30 that clinical studies could move ahead, so more babies may be born in 2017.