Vitamin D supplements don't prevent heart disease or cancer
In the largest clinical trial yet, taking a supplement or a placebo made little difference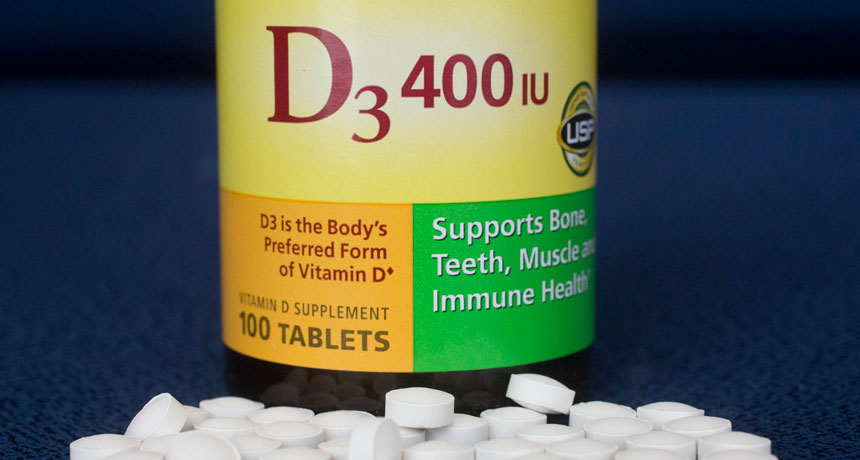 CHICAGO — Taking a vitamin D supplement does not reduce the risk of having a potentially fatal heart attack or stroke or for getting an invasive cancer, according to highly anticipated results of a large clinical trial.
The VITAL trial found no significant difference in cancer or heart health risk between people taking 2,000 international units, or IU, of vitamin D a day and those who took a placebo, researchers reported November 10 at the American Heart Association's annual scientific sessions. The results dim the luster of a vitamin once hailed as a drug that could strengthen bones and prevent conditions from obesity and diabetes to heart and autoimmune diseases.
"What this does show is that the general population does not need to be taking vitamin D for cardiovascular health or cancer health," says Erin Michos, a preventive cardiologist at Johns Hopkins School of Medicine who was not involved in the study. "This is the most definitive trial to date on this issue."
Researchers have known for a long time that people with low levels of vitamin D in their blood are at higher risk for heart attacks, strokes, heart failure and an irregular heartbeat known as atrial fibrillation. But VITAL, a Phase III clinical trial, is the largest randomized trial to specifically test whether boosting levels of the vitamin can prevent cardiovascular disease.
JoAnn Manson, an epidemiologist at Brigham and Women's Hospital and Harvard Medical School in Boston, and her colleagues followed 25,871 U.S. participants — men age 50 and older and women age 55 and older — up to six years. Participants were relatively healthy, having no history of cardiovascular disease or cancer, except non-melanoma skin cancer, at the start. This trial also included 5,106 black participants, important because pigmentation reduces vitamin D production in the skin so people with darker skin have lower levels of the vitamin.
Among participants taking the daily dose of vitamin D, 396 suffered from a heart attack or stroke or died from cardiovascular disease, compared with 409 taking a placebo. The differences were similarly insignificant when the researchers looked at cancer: 793 of those taking vitamin D were diagnosed with invasive cancers — including breast, prostate and colorectal cancers — compared with 824 people taking a placebo. The results were published online November 10 in the New England Journal of Medicine.
In a Nov. 10 news conference on the results, Jane Armitage, an epidemiologist at University of Oxford not involved in the research, noted that the trial was large, ethnically diverse and balanced between men and women, and that adherence to the treatment was good. Because of that, "I think we need to accept that it's a good test of the hypothesis that universal supplementation with a decent dose of vitamin D is not worthwhile," she said.
Subscribe to Science News
Get great science journalism, from the most trusted source, delivered to your doorstep.
Previous trials have hinted that vitamin D may fall short in preventing heart disease and cancer. But those trials have been smaller, used lower doses of vitamin D and most were designed to test the effects of the supplement on other health issues, such as bone strength.
Michos notes that vitamin D doesn't appear to help bone health either. A recent study in the Nov. 1 Lancet Diabetes & Endocrinology found no evidence that vitamin D reduced fractures or falls and found little benefit for bone density.
"Low vitamin D in the blood might just be a marker of someone in a poorer health state in general," Michos says.
Manson's team also looked at whether taking a fish oil supplement in a preparation similar to what consumers can get over the counter affected heart health and cancer risk. As with vitamin D, the researchers found no significant difference between people taking a daily one-gram capsule containing omega-3 fatty acids and those taking a placebo. Those results also were presented at the heart meeting on November 10 and published online in NEJM the same day.