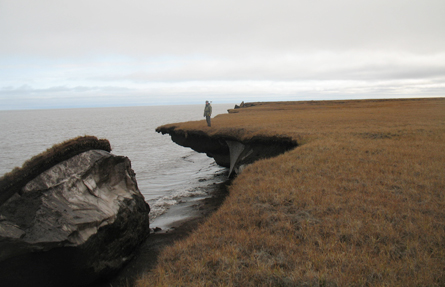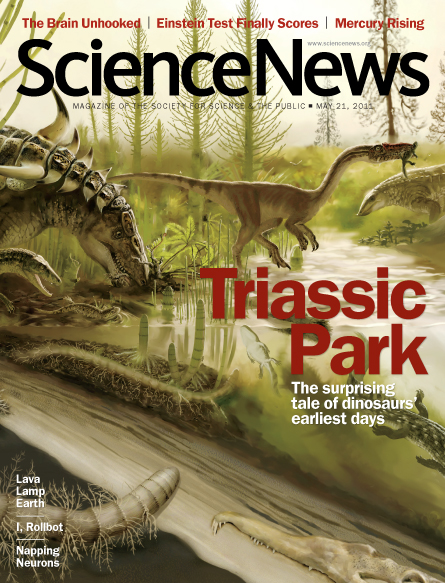 Arctic coastlines — a third of the globe's total shores — are retreating an average of a half meter annually, a 10-nation regional assessment concludes. A warming climate is the apparent cause, according to a related Alaskan study that also calculates the amount of carbon and other nutrients in soil being washed into Arctic waters. On average, shorelines in the region retreat about a half meter per year, although annual erosion in some regions now exceeds 8 meters, the new State of the Arctic Coast Report estimates. That rate is higher than anywhere else on the planet — and escalating. It's something that scientists had suspected, but until now had not amassed sufficient data to confirm, notes Volker Rachold, executive secretary of the International Arctic Science Committee in Potsdam, Germany. The organization copublished the new report along with the Land-Ocean Interactions in the Coastal Zone Project, the Arctic Council's Arctic Monitoring and Assessment Programme and the International Permafrost Association.
Arctic coasts have proven especially vulnerable in recent decades, Rachold notes, because here "ice is what holds everything together." So with global warming, which is exaggerated in the Arctic, coastal sediments have been coming unglued. A related new analysis, focusing just on erosion along Alaska's nearly 2,000-kilometer Beaufort Sea coast, finds land losses now are twice the rate typical of the 1950s through 1980. Chien-Lu Ping of the Palmer Research Center at the University of Alaska Fairbanks and his colleagues quantified the rates and then, for the first time, correlated erosion risk with soil type. On average, Ping says, 70 percent of the Arctic coastline is ice — sometimes present as tiny crystals, other times as major blocks meters or more on each side. In the April 20
Journal of Geophysical Research
Subscribe to Science News
Get great science journalism, from the most trusted source, delivered to your doorstep.
, Ping's team reports that height above sea level and ice content were the primary predictors of erosion risk along nonrocky coasts. The most ice-rich soils face "double jeopardy" from warming, Ping explains. Icier soils initially expand to create high bluffs, which are more vulnerable to undercutting by warming waters and wave action as seas are increasingly freed of year-round ice cover. And as warming air thaws icy patches in the region's permafrost, affected soils can sink to sea level or below. Past studies probed links between ice content and Arctic coastal erosion rates — and never found any, notes Paul Overduin, a geoscientist with the Alfred Wegener Institute for Polar and Marine Research in Potsdam. It now appears such analyses, which considered ice conditions averaged over kilometer or longer stretches, represented too broad a scale, he says. By narrowing its focus to a meters-long scale in breadth and depth, Ping's group found a strong and convincing link, he says. Also novel about the study, Overduin adds, was its careful quantification of nutrients released by coastal erosion. The total annual mineral releases as chunks of coast spill into the sea add up to megatons of organic carbon and other nutrients that could fuel plankton growth, Ping's team calculated. The numbers are huge and represent a source of potential fertilizing materials that peaks at the end of summer or early fall, when warming is greatest and sea life most abundant. The big question, Overduin says, is whether coastal erosion will increase the abundance of life in Arctic waters. "Or will it just put more dirt into the water," he asks, "reducing light penetration, so we get less life? We really don't know yet."
GOING, GOING… from Science News on Vimeo.
Four-week time-lapse photography of the Alaska coast at Drew Point shows loss of the coastal sediments in July, 2008.
Credit: USGS