Water softeners get friendlier to health, environment
New devices could help keep salt out of drinking water and streams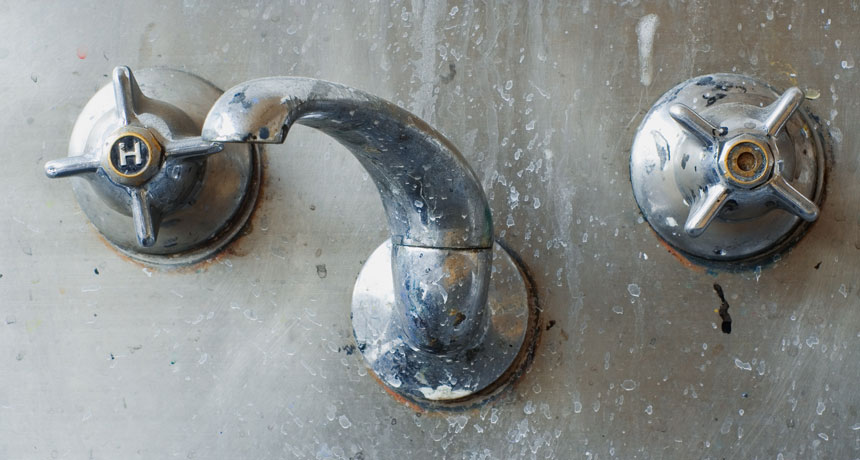 Clever chemistry could take the salt out of water softening.
Aluminum ions can strip minerals from water without the need for sodium, researchers report online October 4 in Environmental Science & Technology. The new technique could sidestep health and environmental concerns raised about the salt released by existing sodium-based water softening systems, says study coauthor Arup SenGupta.
"This is a global need that hasn't been met," says SenGupta, an environmental engineer at Lehigh University in Bethlehem, Pa. "We're just changing the chemistry by adding aluminum ions, which is not something outlandish, but with that we can reduce the environmental impact."
Hard water contains dissolved minerals such as calcium and magnesium that make it harder for soap to lather and that can leave scaly deposits inside faucets and showerheads. Many water softening systems combat these problems by passing water through a special tank containing beads covered in sodium ions, charged particles that can swap places with the calcium and magnesium, resulting in softer water.
This technique adds extra sodium to the outgoing water, though, which can raise blood pressure when used as drinking water (SN Online: 3/12/14). The system also has to be recharged periodically using a sodium-rich brine. That extra salt can end up in local groundwater and streams, prompting bans on salt-based water softeners in many areas, including many counties in California.
Story continues after image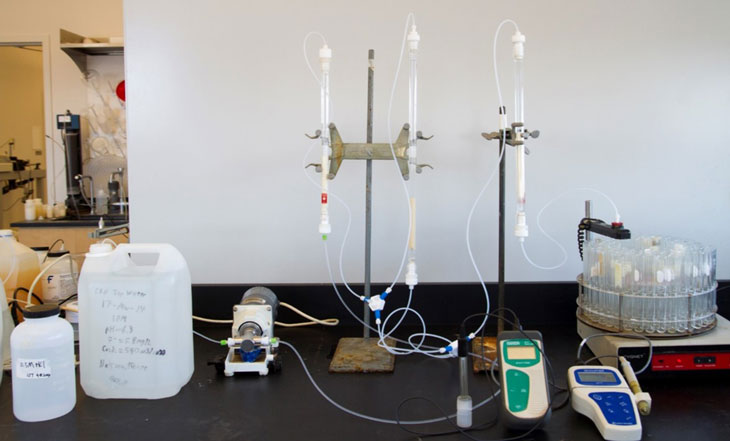 While some sodium-free substitutes exist, many are expensive while others are "snake oil" and don't actually work, SenGupta says. He and colleagues decided to try aluminum, a counterintuitive choice based on its chemistry. An aluminum ion has a net positive charge of three, meaning that it has three fewer negatively charged electrons than a neutral aluminum atom. That charge difference makes it less likely for aluminum to swap places with a calcium or magnesium ion, which each have a positive charge of two.
But when an ion exchange does happen, the aluminum often quickly precipitates back onto the water softener's beads rather than dissolving into the water and being swept away. The process allows the same aluminum ion to swap in for multiple calcium and magnesium ions.
Subscribe to Science News
Get great science journalism, from the most trusted source, delivered to your doorstep.
Setting up a prototype water softening system in the laboratory, the researchers successfully reduced the amount of calcium and magnesium in a groundwater-like mixture using aluminum ions. Recharging the system also resulted in fewer wasted ions than sodium-based systems, the researchers found, lowering the potential environmental impact. The process uses a similar setup to sodium-based systems, SenGupta says, meaning existing systems could be easily retrofitted to use aluminum ions.
While an exciting idea, the new design might not work as well in real life as it does in the lab, says Steven Duranceau, an environmental engineer at the University of Central Florida in Orlando. Bacteria and other substances in groundwater can reduce effectiveness, and strict guidelines surrounding drinking water could prove an unsurmountable hurdle, he says. "I see these great things all the time, but a lot of them just don't make it financially."
SenGupta remains optimistic, though. "This is not a magic bullet; there are shortcomings, but none of these problems are impossible to overcome."