Website turns Alzheimer's research into a game
In Stall Catchers, citizen scientists hunt for blocked blood vessels in mouse brains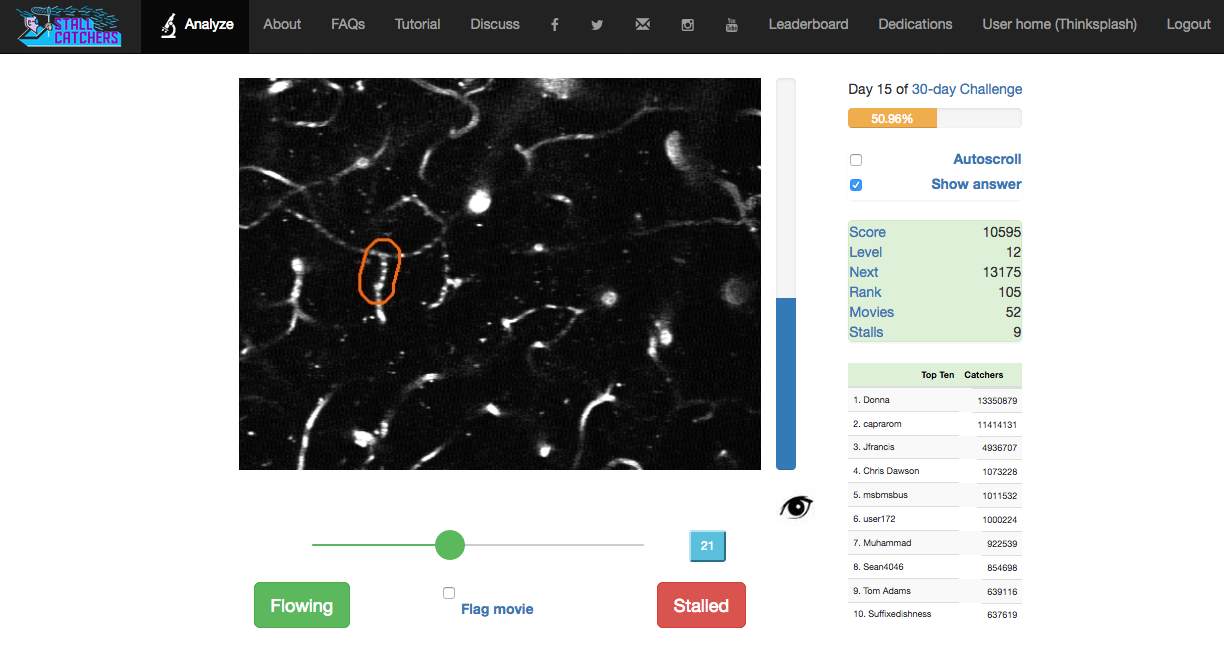 Traffic jams in the brain's blood supply may play a role in Alzheimer's disease. A new online game turns people at home into amateur traffic cops. This policing, which involves spotting hard-to-see sluggishness in tiny capillaries in mice, may ultimately help scientists better understand, and perhaps even treat, Alzheimer's, a devastating disorder that affects over 5 million Americans.
The science behind the game, called Stall Catchers, comes from Cornell University. Chris Schaffer, Nozomi Nishimura and colleagues found that mice designed to exhibit symptoms similar to Alzheimer's have more blocked blood vessels in their brains than regular mice. That difference can deprive the brain of sustenance and may be a key to understanding how Alzheimer's damages the brain, the researchers suspect.
Science News headlines, in your inbox
Headlines and summaries of the latest Science News articles, delivered to your email inbox every Thursday.
Thank you for signing up!
There was a problem signing you up.
But finding congested capillaries is a slog. Computers haven't been up to snuff, and experts could spend an entire year analyzing the thousands of microscope images needed to amass enough data to explore links between Alzheimer's and blocked vessels. "I thought, if we could change that, it would be tremendous," says Pietro Michelucci, director of the Human Computation Institute in Fairfax, Va. The institute is a nonprofit organization that runs the EyesOnALZ program, which aims to crowdsource Alzheimer's research.
That's where StallCatchers.com comes in. The website asks players to sift through short black-and-white videos of real mouse brains, on the prowl for blocked blood vessels. In the videos, moving blood appears white. But stationary black segments that appear between two white segments signal trouble — a stall. Players rack up points and ascend levels as they classify vessels. With practice, the task gets easier. And people who suffer from performance anxiety shouldn't fret; each video will be scrutinized by multiple users to get the final verdict. With a little help from the crowd, "not only do [researchers] get answers faster, but they can ask more questions," Michelucci says.
So far, nearly 1,000 users have played Stall Catchers, Michelucci says. Those players are beginning to generate data that will let researchers see how good these amateur traffic cops are. With luck, their eyes will help unstall the fight against Alzheimer's.