Omega-3's May Hit Food Labels
The Food and Drug Administration has announced that it will allow food manufacturers to make health claims for two omega-3 fatty acids—oils typically found in coldwater fish. Food labels can now note that products containing these oils might provide some protection from heart disease.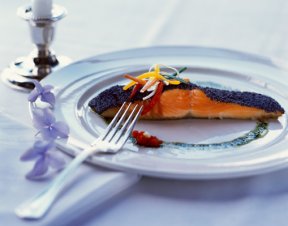 The oils carry unwieldy names and so go by their acronyms: eicosapentaenoic acid (EPA) and docosahexaenoic acid (DHA). For decades, research has been accumulating that diets high in fish are associated with a low risk of heart disease. In fact, not only do fishy diets appear to lower blood pressure, but they also seem to fight inflammation, lower blood concentrations of fats called triglycerides, and cut a person's risk of stroke.
Four years ago, FDA opened the door to the new claim on food by allowing a similar heart-protection claim on the labels of dietary supplements containing EPA or DHA. On the other hand, the agency recommended that consumers limit intake of the oils to 3 grams per day, with no more than 2 grams coming from supplements.
FDA anticipates that few foods other than oily fish—such as salmon, lake trout, tuna, and herring—will carry the heart-benefit label. However, certain entrepreneurs have been developing omega-3–rich margarines and hens' eggs, for example (SN: 11/25/89, p. 351), as natural sources of the fats for people who aren't big fish eaters. Such enriched foods could also qualify for the new health claim.
What's qualified?
FDA previously endorsed health claims about other food ingredients. The first was for oats, which can reduce an individual's risk of heart disease (see FDA Allows Heart Health Claims for Oats). The evidence for how eating oats can reduce a person's cholesterol readings was overwhelming, so in 1997 FDA consented to heart-health labels for oats products.
More often, however, links between a food and protection against a disease is less clear. In such cases, FDA allows health claims based on scientific data that are strong and building—but only as long as product labels "qualify" those purported benefits—that is, describe limitations of the data linking food and benefit.
Companies must petition FDA to make such qualified health claims, which is what Wellness Lifestyles, Life Extension Foundations Buyers Club, and Martek Biosciences did for EPA and DHA. The companies provided a scientific basis for their proposed health claim, reviewed the safety of the foods containing these fatty acids, and described the nature of the health claim they wanted to make.
The companies offered up dozens of scientific publications describing the heart benefits of a diet rich in EPA and DHA. In the end, "the agency did not consider all of the publications . . . to be pertinent" but found other relevant studies on its own, noted William K. Hubbard, associate FDA commissioner for policy and planning, in a letter to the petitioners.
Although the agency concluded that, overall, the data were mixed, the balance of evidence tipped toward a justifiable health claim for omega-3 oils in foods.
However, the new label claims must be worded according to an outline prescribed by FDA. One such approved statement: "Supportive but not conclusive research shows that consumption of EPA and DHA omega-3 fatty acids may reduce the risk of coronary heart disease." A food label using this statement must then identify the amount of EPA and DHA in the product. Hubbard's official letter to the companies recommended that the oils be limited to 1 gram per serving of food.
The letter also warned that either permission for the new claim or its allowed wording could change as new scientific information becomes available.
After further review
Omega-3 fats become only the second food or ingredient group to win FDA approval for such qualified health claims. The first—for whole and chopped walnuts—was formally announced on March 31, when the agency rolled out its new qualified-health-claims program. As with the omega-3 fatty acids, walnuts can carry a label saying they may reduce an individual's risk of coronary heart disease.
FDA is also considering qualified health claims for several other food ingredients. Among them is one for lutein—a yellow plant pigment that, as an antioxidant, fights a host of destructive chemicals in the body. Cognis Corp. of LaGrange, Ill., a producer of lutein, is seeking permission to label lutein-rich foods as aids to reducing the risks of cataracts and macular degeneration, a potentially blinding eye disease.
In the body, lutein collects in the macula of the eye, where it appears to protect the tissue's vulnerable light receptors. The substance also appears to have a near-unique ability to filter out wavelengths of blue light that fall below the limit of visual detection yet harm eyes (see Eye-Savvy Eating).
Like it's better-known cousin, beta-carotene, lutein is a carotenoid. Lutein makes up about half the coloring carotenoids in kiwis, red grapes, zucchini squash, pumpkins, spinach, yellow squash, cucumber, peas, and celery, and up to almost one-third of the carotenoids in Brussels sprouts, green grapes, scallions, green beans, broccoli, lettuce, and yellow peppers. Interestingly, in the same way this pigment protects the eyes from damaging light, it appears to spare the skin from some of the rays that can cause sunburn (see Dietary Protection Against Sunburn (with Recipe)).