Let your kids help you, and other parenting tips from traditional societies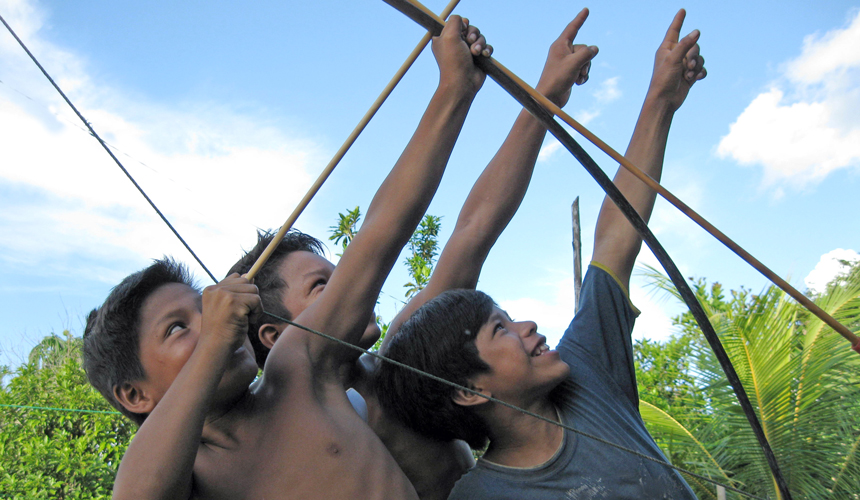 Hunter-gatherers and farming villagers don't write parenting handbooks, much less read them. But parents in WEIRD societies — Western, educated, industrialized, rich and democratic — can still learn a few childrearing lessons from their counterparts in small-scale societies.
It's not that Western parents and kids are somehow deficient. But we live in a culture that holds historically unprecedented expectations about how to raise children. Examples: Each child is a unique individual who must be allowed to make decisions independently; children are precious and innocent, so their needs are more important than those of adults; and kids need to be protected from themselves by constant adult supervision.
When compared to family life in foraging and farming cultures, and in WEIRD societies only a few decades ago, there is nothing "normal" about parenting convictions such as these.
"Childhood, as we now know it, is a thoroughly modern invention," says anthropologist David Lancy of Utah State University in Logan. He has studied traditional societies for more than 40 years.
In his book Raising Children: Surprising Insights from Other Cultures, Lancy examines what's known about bringing up kids in hunter-gatherer groups and farming villages. Among the highlights:
Babies are usually regarded as nonpeople, requiring swaddling and other special procedures over months or years to become a human being.
Children are typically the lowest-ranking community members.
Because kids can't feed and protect themselves, they accumulate a moral debt to their elders that takes years of hard work to repay.
If that sounds harsh to WEIRD ears, withhold judgment before considering these child-rearing themes from traditional cultures.
Allow for make-believe about real life
Hunter-gatherer and village kids intently observe and imitate adults (SN: 2/17/18, p. 22). Playtime often consists of youngsters of various ages acting out and even parodying adult behaviors. Virtually everything, from relations between the sexes to religious practices, is fair game. Kids scavenge for props, assign each other roles and decide what the cast of characters will say.
Western children would benefit from many more chances to play in unsupervised, mixed-age groups, Lancy says.
Let kids play collaborative games
A big advantage of play groups of kids of all ages is that they become settings for games in which kids negotiate the rules. Until recently, these types of games, such as marbles, hopscotch and jump rope, were common among U.S. children.
Not anymore, at least not in neighborhoods dominated by adult-supervised play dates and sports teams. Sure, tempers can flare as village youngsters hash out rules for marbles or jacks. But negotiations rarely go off the rails. Older kids handicap themselves so that younger children can sometimes win a game. Concessions are made even for toddlers.
The point is to maintain good enough relations to keep adults from intruding. In modern societies, Lancy suspects, bullying flourishes when kids don't learn early on how to play collaboratively.
Put young children to work
In most non-WEIRD societies, miniature and cast-off tools and utensils, including knives, are the toys of choice for kids of all ages. Play represents a way to prepare for adult duties and, when possible, work alongside adults as helpers.
Western parents can find ways for preschoolers to help out around the house, but it demands flexibility and patience. Lancy suggests making allowances for a 3-year-old who mixes up socks when sorting the laundry. Maybe paper plates are needed until a kitchen helper becomes less apt to drop them.
Still, carefully selected jobs for 3- and 4-year-olds promote a sense of obligation and sympathy toward others, Lancy says. Western kids given chances to help adults early on may, like their non-WEIRD peers, willingly perform chores at later ages, he predicts.
Whether children live in city apartments or forest huts, having the freedom to explore and play with no adults around proves an antidote to boredom.  Lancy recalls how boredom-busting works from his own early childhood in rural Pennsylvania during the 1950s. His family lived in a house bordering a river. Lancy would sit on the river bank for up to an hour at a time. His mother liked to tell visitors a story that, when asked what he had been doing, the boy replied "watching the 'flections." 
---
Bruce Bower reports on behavioral sciences for Science News. He is also a parent who has learned more from his son, now an adult, than he thought possible.