Collins nominated to head NIH
Today, President Obama confirmed his intent to nominate geneticist Francis Collins to head the National Institutes of Health. This federal agency's $30 billion a year research budget is dwarfed only by R&D spending on defense.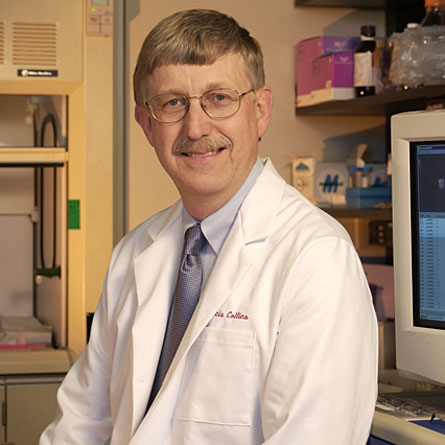 "Dr. Collins is one of the top scientists in the world," the president said in a prepared statement. "His groundbreaking work has changed the very ways we consider our health and examine disease. I look forward to working with him in the months and years ahead."
NIH is an institution Collins knows well, having worked there for the past 16 years. He arrived in 1993 to direct the National Human Genome Research Institute, which focused on sequencing the entire human genetic blueprint — a feat it accomplished in 2003. His work has also uncovered several genes linked to disease, including ones that play a role in cystic fibrosis, neurofibromatosis, Huntington's disease, an endocrine cancer syndrome, and "adult onset" (type 2) diabetes. Although Collins resigned his post at NIH's genome research center last year, he has continued to work with people there. He also has been putting the finishing touches on a book, due out next year: The Language of Life: DNA and the Revolution in Personalized Medicine.
Collins didn't grow up anticipating such a career. He started out a chemist with no interest in the messiness of living systems. Only after attaining a PhD in physical chemistry at Yale did Collins consider moving into biology. He eventually went to med school at the University of North Carolina at Chapel Hill and became an internist. But in the early '80s he returned to Yale to study human genetics. And his interest in the chemistry of life has never waned since.
NIH bills itself as "the steward of medical and behavioral research for the nation. Toward that end, it funds science on site and in labs around the nation "in pursuit of fundamental knowledge about the nature and behavior of living systems and the application of that knowledge to extend healthy life and reduce the burdens of illness and disability."
Collins has been elected to the Institute of Medicine and the National Academy of Sciences, and in late 2007 received the Presidential Medal of Freedom — the nation's highest civil award — for his contributions to genetic research.

The nominee also has a renowned spiritual side, something Collins described in his 2006 book: The Language of God: A Scientist Presents Evidence for Belief.

A number of organizations have already praised Collins' nomination. Among them: the American Association for the Advancement of Science, in Washington, D.C.

"This is a terrific nomination," said AAAS CEO Alan I. Leshner, in a brief statement this afternoon. "Dr. Collins has the scientific stature to sit at the table with the nation's top scientists, and he has the additional ability to discuss science in very clear ways with both the public and policy makers." Leshner added that it also doesn't hurt "to have a very credible geneticist heading NIH at a time when we are pursuing so vigorously the promise of personalized medicine, based on genomics."