New Horizons wakes up to begin Kuiper Belt exploration
The spacecraft will fly past a small rock nicknamed Ultima Thule on New Year's Day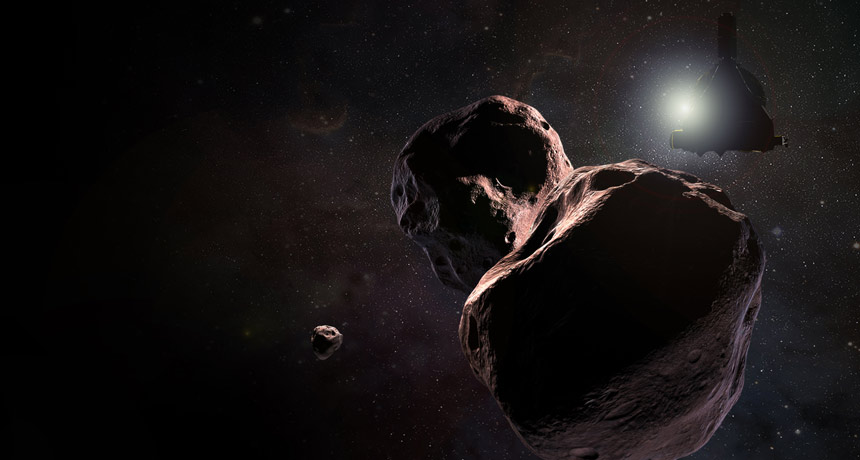 The spacecraft that raced past Pluto is back and ready to explore a whole new world.
NASA's New Horizons probe woke up at 10:55 p.m. EDT on June 4 after a nearly six-month slumber, and news of the event reached Earth several hours later. The craft is now getting ready to fly past a small Kuiper Belt object called Ultima Thule (SN Online: 3/14/18).
New Horizons went into the last of a series of sleep modes on December 22, 2017, resting before continuing its exploration of the Kuiper Belt, the zone of small icy celestial bodies beyond Neptune (SN: 6/27/15, p. 16).
Science News headlines, in your inbox
Headlines and summaries of the latest Science News articles, delivered to your email inbox every Thursday.
Thank you for signing up!
There was a problem signing you up.
Hibernation is part of normal spacecraft operations, says mission principal investigator Alan Stern of the Southwest Research Institute who is based in Boulder, Colo. "It saves wear and tear on the system, and it frees up personnel to do flyby planning."
"IT'S HAPPENING! IT'S HAPPENING!" Stern tweeted in the early hours of June 5. "Flyby preparations for Ultima Thule begin shortly!"
In its next act, New Horizons will fly past the distant rock of Ultima Thule (also known as 2014 MU69) on New Year's Day in 2019. Earlier observations suggest that Ultima Thule, no more than 30 kilometers long, could actually be two smaller objects orbiting each other (SN Online: 12/12/17). The team will know more when New Horizons' first images after waking up arrive at Earth in August 2018.
Subscribe to Science News
Get great science journalism, from the most trusted source, delivered to your doorstep.
Scientists think that Ultima Thule has existed near its current orbit 6.5 billion kilometers from Earth, at a temperature of –240° Celsius, for most of the solar system's 4.6-billion-year history. "As such, MU69 will be the most primitive body ever studied by any spacecraft," the team writes in the June Space Science Reviews.