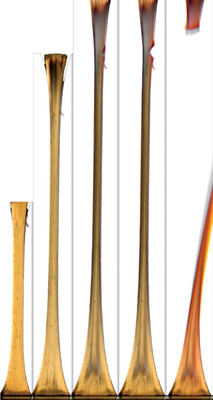 About to break
Engineers one day may not need to guess when a bridge is near its breaking point. New materials that flush red in response to damage may provide a visual warning sign of trouble to come (SN: 6/6/09, p. 15). A small four-ringed molecule called a mechanophore gives the materials their chameleon-like abilities. When the weakest bond in the mechanophore breaks, the molecule takes on a dog-bone shape, and the reaction causes the molecule to redden. Researchers spiked two kinds of polymers with the molecule and found that stretching and stress prompted a color change. "It's a really simple detection method," says study coauthor Nancy Sottos of the Beckman Institute for Advanced Science and Technology at the University of Illinois at Urbana-Champaign.
---
Science News headlines, in your inbox
Headlines and summaries of the latest Science News articles, delivered to your email inbox every Thursday.
Thank you for signing up!
There was a problem signing you up.
One fine line
Erasing and stenciling techniques use two lasers to write tiny patterns, offering new possibilities for nanolithography (SN: 5/9/09, p. 12).
---
Smog check
A new kind of catalytic converter may help trucks run cleaner to reduce smog levels (SN Online: 2/20/09).
---
Velcro on steroidsA steel version (below) of the tiny hooks and loops can operate under harsh conditions, such as in a car engine (SN Online: 9/8/09).
---
Subscribe to Science News
Get great science journalism, from the most trusted source, delivered to your doorstep.
Molecules gear up
Researchers have made a tiny version of a gear out of a snowflake-shaped molecule, creating a building block for complex miniature devices (SN: 7/18/09, p. 14).
---
Good noise
A newly designed digital circuit needs the buzz of background noise to work properly. Such circuits could lead to smaller, more reliable devices (SN Online: 3/12/09).
---
Virus power
Viruses could be engineered to make the rechargeable lithium ion batteries that power iPods, laptops and cell phones, research suggests (SN: 4/25/09, p. 12).
---
Paper battery
Scientists make batteries and super-capacitors with little more than ordinary office paper and carbon and silver nanomaterials (SN: 1/2/10, p. 9).
---
What's that sound
Researchers unveil imprints of sound bites and other snippets made 20 years before Edison invented the phonograph (SN Online: 5/29/09).
---
Sun sets on incandescents
The ban-the-bulb campaign may be paying off as more consumers switch to energy-efficient bulbs (SN Online: 9/1/09).
---
Moving microfluids
Scientists show one way that microscopic, hairlike structures could move liquid through tiny channels in a "lab on a chip" (SN Online: 1/30/09).