Mexico's Cueva de los Cristales, or Cave of Crystals, may look like Superman's Fortress of Solitude. But unlike its comic book counterpart, this cave's assortment of supersized crystals took a lot longer than a few minutes to grow.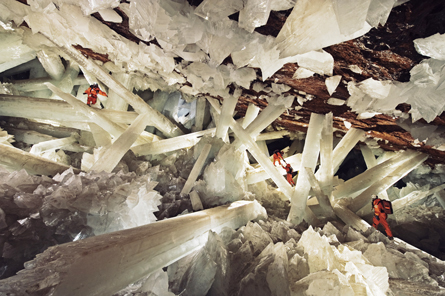 Under a laboratory microscope, pieces of these gypsum crystals immersed in mineral-rich water elongated a mere billionth of a meter per day, a team of scientists in Spain and Japan reports online the week of September 12 in the Proceedings of the National Academy of Sciences. At this rate, the slowest ever measured in a crystal, it took between 100,000 and 1 million years for the crystals to reach their modern-day lengths, up to 11 meters.

To nurture such growth, temperatures in the cave must have remained between about 50 and 58 degrees Celsius, the team reports. While no fortress, this balmy lair — with its icy décor — might have made a nice sauna for the Man of Steel.