Sewing study stitches up Broadcom prize
30 finalists come to Washington for middle school science competition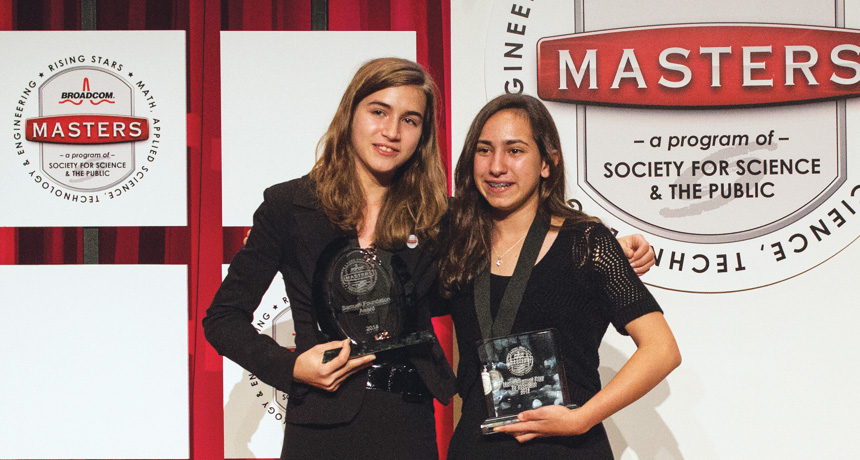 WASHINGTON — A teen who loves to sew zigzagged her way through three days of science, engineering and math challenges to win the top prize at a middle school science competition. At a ceremony October 28, Holly Jackson, 14, of San Jose, Calif., claimed the $25,000 award.
She was one of 30 finalists from 13 states who came to the fourth annual Broadcom Math, Applied Science, Technology and Engineering Rising Stars, or MASTERS, competition. "I was so surprised," Jackson said. "The other finalists had so many great projects." The other top award went to Sahar Khashayar, 14, of Laguna Niguel, Calif.
Eight other finalists took home cash awards or funding to attend a science or engineering camp. The Samueli Foundation, an organization started by Broadcom cofounder Henry Samueli, provided Jackson's funds.
Broadcom MASTERS finalists were selected on the basis of a middle school science fair project. The projects accounted for about one-quarter of each finalist's score. The rest of the score came from performance in science challenges. While in Washington, five-member teams designed, built and tested roller coasters, carbonation-powered rockets and hurricane-proof houses. The finalists also analyzed minerals and scrutinized replicas of fossil skulls.
Jackson's research project analyzed the strength of various types of sewing stitches and the best applications for them. She used thread to sew together 120 samples of cotton, denim and nylon fabric. Then she measured the force needed to break the stitches with a bathroom scale. The results were surprising, she said: "The strongest stitch, on average, was a simple straight stitch." Jackson's findings could be of interest to everyone from fashion designers to parachute manufacturers.
Jackson's project "is a great example of how science is applicable in our everyday lives," said Maya Ajmera, president and chief executive officer of Society for Science & the Public, which runs the Broadcom MASTERS competition and publishes Science News.
One of the competition's highlights involved no science: The students met President Barack Obama at the White House.
Subscribe to Science News
Get great science journalism, from the most trusted source, delivered to your doorstep.
"Congratulations to Holly, Sahar and the entire Broadcom MASTERS class of 2014 whose STEM skills and collaborative team spirit represent the critical array of diversified talent needed to innovate solutions to the world's grand challenges," said Paula Golden, executive director of the Broadcom Foundation.
---
Broadcom MASTERS Winners
The Samueli Foundation Prize
Holly Jackson of San Jose, Calif., won $25,000. She tested the strength of various sewing stitches.
Marconi/Samueli Award for Innovation
Sahar Khashayar of Laguna Niguel, Calif., won $10,000. She created an inexpensive device to provide early warning of wildfires.
STEM Award Winners
The following finalists were selected for demonstrated skills and promise in the disciplines represented by STEM.
Science Awards: First place went to James Roney of Santa Barbara, Calif. He found that ants signal each other about food quality. Second place went to Daniel Bruce of San Diego, who studied people's influence on bird behavior in lagoons.
Technology Awards: First place went to Aditya Jain of Portland, Ore. He created algorithms to better detect lung cancer on CT scans. Second place went to Nikhil Behari of Sewickley, Pa., who developed keystroke-based password security enhancements.
Engineering Awards: First place went to Chythanya Murali of Little Rock, Ark. Her project explored enzymes and bacteria that can clean up oil spills. Second place went to Annika Urban of Pittsburgh, who developed a device to record heartbeats and breath sounds.
Mathematics Awards: First place went to Rajiv Movva of San Jose, Calif., who studied nondrug treatments for type 2 diabetes. Second place went to Jonathan Okasinski of Harleysville, Pa. He developed equipment that can demonstrate quantum entanglement.
Rising Stars Award Winners
Two finalists were selected for scientific promise and spirit of cooperation. Annie Ostojic of Munster, Ind., studied the best ways to microwave foods. Raghav Ganeshof San Jose, Calif., created a "smart" cane for blind people.