For the real hits of fashion week, look to computer science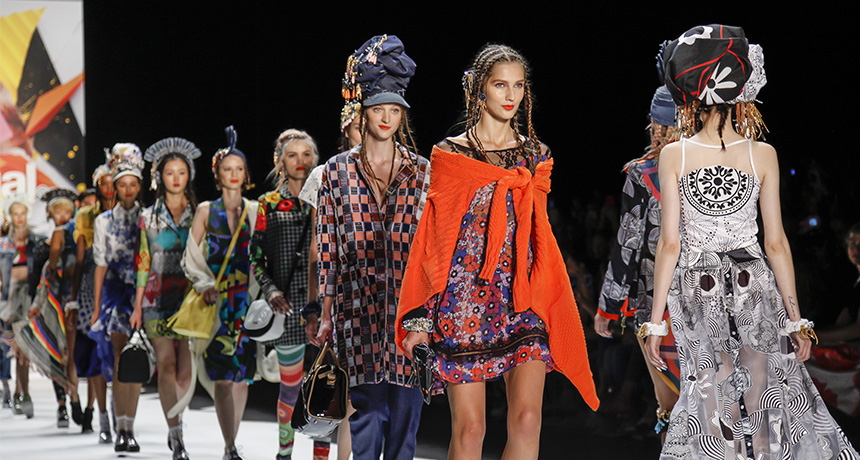 Fall fashion season is drawing to a close in Paris this week. Among this year's runway trends are glitter (London), stripes (Milan) and penises (good old New York). For a more detailed analysis of which looks will percolate down to the masses, you might turn to a sartorial mainstay such as Vogue. Or you could ask a computer scientist.
It turns out that for identifying general trends, a computer program might be as good a fashion guide as Vogue's legendary editor Anna Wintour. Researchers from Taiwan and the University of Rochester in New York have developed machine learning algorithms that enable a computer to spot the fashion trends that make their way from the runway to the street. The work may lead to tricks for quickly pinpointing what's popular with the people, Kezhen Chen, computer science major and study coauthor told me.
Chen started the project while taking a course with the University of Rochester's Jiebo Luo, an expert in data mining and computer vision. Luo says the research might eventually help garment makers and distributors better tailor the supply side of the chain. This might mean that in the future, stores could keep up with demand if a superpopular style of shoe or shirt is flying off the racks.
To start, researchers trained a collection of algorithms to identify things like a body and clothing. Using a training set of images of people from the Web, the machine learning algorithms mastered identifying a human figure and nine anatomical sections, such as torso, upper left arm or lower right leg. The algorithms also learned to assess features such as color and texture, clothing categories such as "skirt" and elements such as a placket (an opening in a garment, like those at the neck or sleeve of a dress shirt, that can be decorative or that hosts the buttons and button holes, thank you Google).
Then the team created two datasets: One contained thousands of images from the February 2014 and 2015 New York fashion shows and the other contained hundreds of images of people's clothes gleaned from social media sites like Facebook and Twitter (see #streetchic) from the corresponding spring and summers. (The researchers' paper, "Who are the devils wearing Prada in New York City?," will be presented at the ACM Multimedia conference in Brisbane, Australia, at the end of October.)
The computer picked up on several general trends. In the February 2015 fashion show, for example, tank tops, plackets and necks with collars became more prominent, as did longer length skirts. These styles also made their way to the street with similar representation in the street chic dataset as they had on the fashion show set. Blue in the lower body and blue, cyan, red and multicolor items in the upper body also were prominent in both datasets.
The program also spotted modifications to the catwalk styles. People on the street were more likely to wear longer sleeves, for example, and bright colors on both the upper and lower body, while fashion shows kept their brights to the upper body.
Subscribe to Science News
Get great science journalism, from the most trusted source, delivered to your doorstep.
If you knew what a placket was before reading this post, congratulations. But if you are congratulating yourself for your lack of fashion knowledge — maybe you're that person who bucked the trend by wearing bright pants — don't be too smug. Variations on the fashion show styles were pretty minor compared with the amount of style that did influence the outfits of the masses.
So perhaps Miranda Priestly of Devil Wears Prada (played in the film by Meryl Streep and supposedly modeled after Anna Wintour) was right in that scene where she dresses down journalist Andrea Sachs (played by Anne Hathaway) for thinking the schlumpy blue sweater she's wearing means that she doesn't care about fashion. The sweater's color, Priestly notes, is the direct result of color choices made by the crème de la crème of fashion designers.
"It's sort of comical how you think that you've made a choice that exempts you from the fashion industry," Priestly says, "when, in fact, you're wearing the sweater that was selected for you by the people in this room."